The Features of semi-electric work positioner:
With compact structure and mini shape. Simple and easy to use .
High performance hoist motor: high efficiency, stability and long working life.
The excellent work transporter for Industrial, Laboratory,Office and "White Coat" industrial applications.
Conforms to EN1757-1 and EN1175-1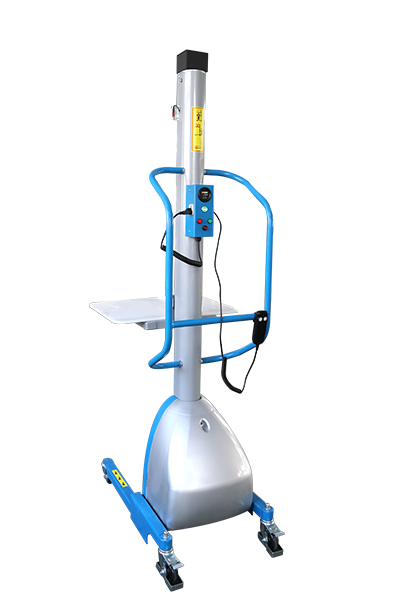 This E200A Semi-electric Work Positioner range has been designed, developed and built to give long service with minimum maintenance required and assist with all manner of manual handling within industry and commerce.
E200A Semi Electric Work Positioner is ideal for those medium weight lifting requirements where personnel need protection from lifting everyday items which are judged to be too heavy to lift manually. Reams of paper, Servers, batteries etc… Deemed too heavy for a person to lift! This E200A semi-electric lift stacker is mounted on 4 swivel castors allowing the unit to turn easily in confined areas.
Lift is by means of an electrically driven belt which allows the operator to elevate the load to a given height at the press of a button. The lift/lower control is via the truck mounted push buttons, Very easy but effiency.
Semi-Electric Work Positioner is a common general purpose power lift stacker, which can make quick work of large quantities of moving and lifting jobs especially in narrow aisles and confined spaces, mainly used in pharmaceutical, catering, packing line, food processing, warehouse, office, kitchens, laboratories, retail outlets, etc.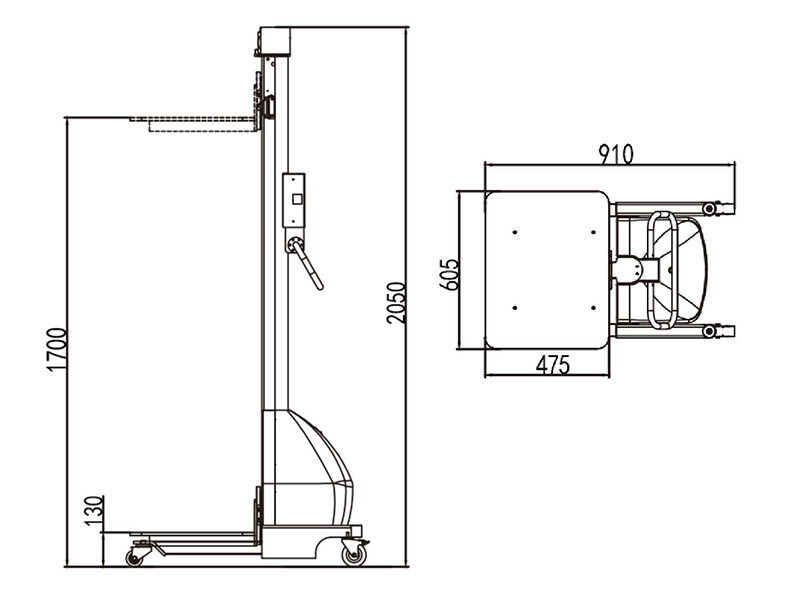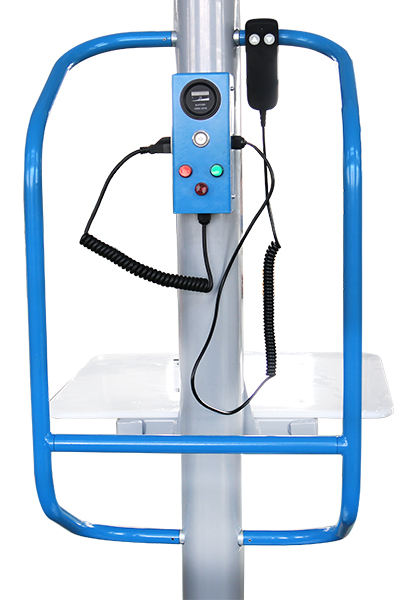 Specification
Precautions
Considerations
| | | |
| --- | --- | --- |
| i-lift No. | | 1511001 |
| Model | | E200A |
| Capacity | kg(lb.) | 200(440) |
| Load Centre | mm(in.) | 235(9.3) |
| Max.lifting height | mm(in.) | 1700(67) |
| Min. height | mm(in.) | 130(5.1) |
| Platform Size | mm(in.) | 605*475(23.8*18.7) |
| Overall Size | mm(in.) | 910*605*2050(35.8*23.8*80.7) |
| Load Wheel | mm(in.) | 75(3) |
| Steering Wheel | mm(in.) | 100(4) |
| Battery | V/Ah | 24/12 |
| Net weight | kg(lb.) | 86(189.2) |
It is strictly forbidden to press the up or down button while the stacker is walking;
It is forbidden to switch the rising and falling buttons quickly and frequently.
It is strictly forbidden to load heavy objects on the fork quickly.
No overloading is allowed
When using, make sure that the center of gravity of the goods is at the center of the two forks
It is strictly forbidden to place the goods on the fork for a long time.
It is strictly forbidden to place any person and any part of the body under the fork and carrying heavy objects
Semi-electric stacker charging considerations:
The charging environment of the light semi-electric stacker is mainly clean, ventilated, and the battery can be taken out or the cover of the light semi-electric stacker can be opened if conditions permit;
The electrolyte level of the light semi-electric stacker should be 15mm higher than the partition. Below this scale line, the electrolyte should be added in time to prevent the battery from losing electricity and affect the battery life of the light semi-electric stacker. The temperature of the electrolyte shall not exceed 45 degrees during charging;
It is not possible to expose the open flame when charging the light semi-electric stacker. Because the battery will generate a lot of flammable gas during charging, the light semi-electric stacker will prevent fire during charging.
Light semi-electric stacker should avoid skin and acid contact during charging. If there is contact, use plenty of soapy water or consult a doctor.
The battery should be kept clean and dry in peacetime. It is not allowed to put other objects on the battery of the light semi-electric stacker;
Waste batteries of light semi-electric stackers should be disposed of in accordance with national environmental protection laws.