This HH1216 straddle leg fully powered lift stacker truck (fully powered lift stacker truck) is a good choice for general material handling, stacking and work positioning. Battery operated truck offers a tight 55" turning radius that eases maneuverability in confined aisles. 2.2KW lift motor raises loads 24.4 ft./min. loaded and 42 ft./min. unloaded. Power Stacker travels at 2.5 mph loaded and 3.0 mph unloaded using a 0.75KW drive motor. Self-propelled lift truck features 42"L x 3.9"W forks and a 24" load center. Unit includes (2) 12V / 85AH maintenance-free batteries, battery discharge gauge and an integral 15 amp 120V charger. An electromagnetic disc brake with automatic dead-man feature activates when the user releases the handle. Ergonomic handle controls speed and lift with left or right hand, and offers auto-reverse safety belly button switch. Self-Propelled Powered Lift Truck is Easy to Use and Maintain. 1 Year Limited Warranty.
This HH1216JW battery stacker is a stacker with straddle leg, pls check this if you need full electric pallet stacker for EU standard pallets.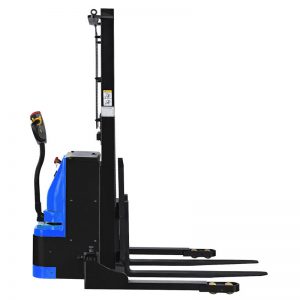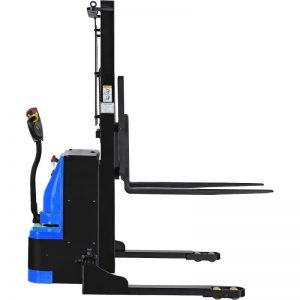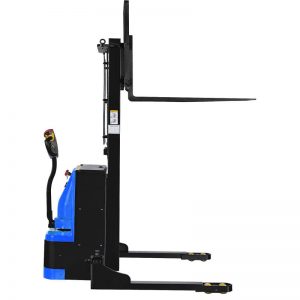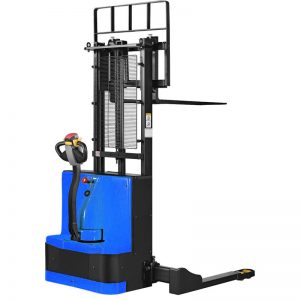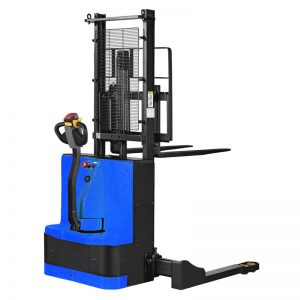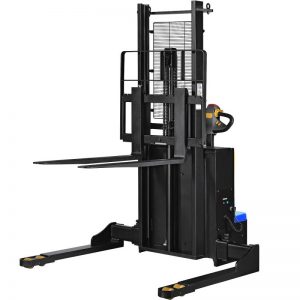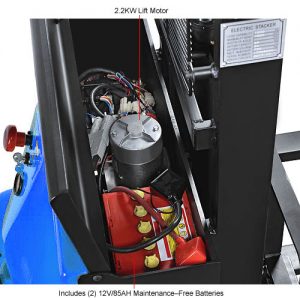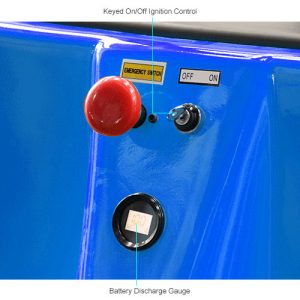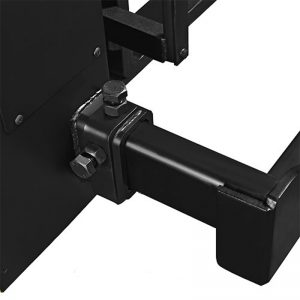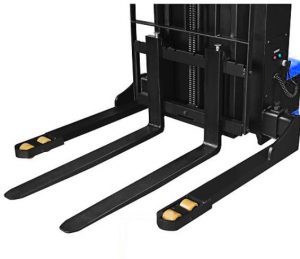 Model
HH1216JW
Capacity
lbs
2650
Battery
12V/85Ah
Battery Charger
120V
Drive motor
KW
0.75
Fork Length
in.
42
Fork Overall Width
in.
9.5-31adjustable
Power
Battery operated
Min.fork height
in.
2.5
Max.fork height
in.
65
Turning radius
in.
55
Wheel
Polyurethane
Straddle leg width
in.
38 to 50 I.D.; 47.5 to 59.5 O.D.
Type
Forks Inside Adjustable Straddle Legs
As an electric stacker manufacture, i-Lift also have other pallet lifting machines like  manual stacker, hydraulic stacker, battery operated stacker, stand on electric pallet truck, full electric pallet truck, power stacker, hand operated electric forklift, platform stacker, hand pump operated lift truck,pallet tilter, drum handling equipments and so on....
ATTENTION AND WARNING OF ELECTRIC PALLET STACKER:
There should be a safety sign on the outside of the door frame.

The stacking truck should have an obvious lifting position.
The obvious position of the stacker frame should be marked with steel serial number.
 Before shipment, the manufacturer shall:
A) all random accessories and tools shall be rustproof or other protective measures;
B) apply anti-rust oil on the surface of all exposed unpainted parts of the stacking truck:
C) the hydraulic components that must be sealed must be approved by the inspectors before sealing;
D) sufficient lubricating grease shall be applied to all lubrication parts;
E) all parts of the stacking truck with relative motion shall be fixed accordingly:
F) hydraulic oil should be added to the specified position.