RA20 full electric pallet truck has small but strong frame design, it is very suitable for operating in narrow asile area. 4 pieces of maintance-free battery ensures 8 hour working. 6% grade ability when full loaded(8%unloaded).
This electric hand forklift has maintance-free 48V brushless motor for life cycle using, auto brake on slope when power off. This powered battery pallet truck has low battery reminder (slowspeed when battery less than 12%), so you won't forgot to charge. 48V 40Ah Li-ion battery is also optional(with build-in battery charger). Quick -fix frame design for easy maintance or repair.
Foldable pedal and hand rail are also optional for this RA20 pallet lifting machine, that means you can use it as a  stand on electric pallet truck. Li-ion is also optional.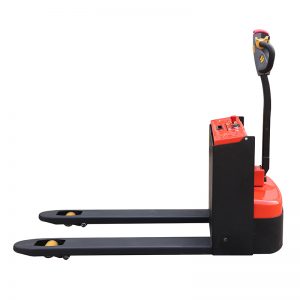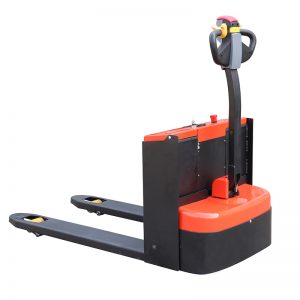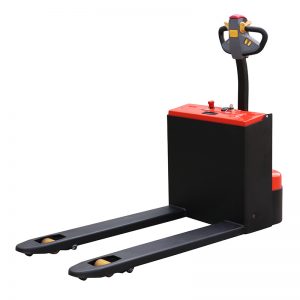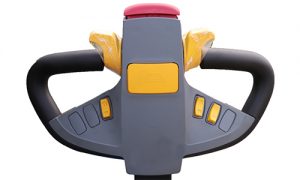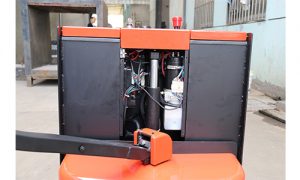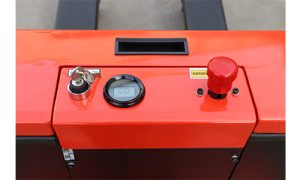 i-lift No.
1112205
Model
RA20/RA20Li
Drive unit
Electric
Operator type
Pedestrain
Capacity
 kg(lb.)
2000(4400)
Load center
 mm(in.)
600(23.6)
Wheelbase
 mm(in.)
1230(48.4)
Wheel material(Driving/balance/front wheel)
Polyurethane
Driving wheel size
 mm(in.)
210*75(8.3*3)
Balance wheel size
 mm(in.)
75*35(3*1.4)
Front wheel size
 mm(in.)
78*70(3*2.7)
Min.fork height
 mm(in.)
75/80(3/3.1)
Max.fork height
 mm(in.)
195/200(7.7/7.9)
Overall length
 mm(in.)
1590(62.6)
Overall width
 mm(in.)
710(28)
Overall height
 mm(in.)
1305(51.4)
Fork dimensions
 mm(in.)
50/160/1150(2*6.3*45.3)
Outside fork width dimensions
 mm(in.)
680/550(26.8/21.7)
Ground Clearance
 mm(in.)
25/30(1/1.2)
Turning radius
 mm(in.)
1390(54.7)
Travel speed,with load/without load
 mm(in.)
3.5/4
Max.gradeability,with load/without load
km/h
6
Service brake
Electromagnetic brake
Drive motor
kw
0.65
Lift motor
kw
0.8
Battery voltage
V/Ah
45/48
Battery weight
 kg(lb.)
40(88)
Truck weight
 kg(lb.)
286(629.2)
---
As an electric pallet truck manufacture, we also have various models with different capacity for your option, just let us know your requirements.
Safe and efficient design
■ The handlebar is equipped with an emergency reverse function, which makes the operation of the whole vehicle more safer;
■ Electricity display and working time display;
■ Emergency power-off switch, which can cut off the power in emergency, more safer;
■ Low Speed driving switch makes the pallet truck more suitable for narrow spaces;
Structural optimization design
■ Balance wheel with spring adjustment structure is wear-resistant and has good stability;
■ The battery cover can be fully opened, and the battery can be pulled out easily which is conducive to the exchange and maintenance of the battery;
■ The entire drive unit has a small turning radius, and the wheel replacement and maintenance are simple and convenient;
■ The motor has better dustproof and waterproof effect, which makes the brake and motor more durable, and the reliability can be improved;
■ The pedal of standing person has good shock absorption effect, comfortable operation and not easy to fatigue.
The ergonomic handle can be easily operated on both sides, and the turtle speed switch ensures safer operation in a small space.
Forklift trucks are equipped with top-grade polyurethane load-bearing wheels, which are silent / wear-resistant / corrosion-resistant.
Optional stand pedals and armrests are available. The pedal shock absorber design reduces the impact on the human body when working. Guardrails on both sides can effectively protect workers' backs from damage, making the operation safer and easier.
Easy maintenance design
■ Low voltage protection system and low battery reminder to extend battery life;
■ Lubricating oil nozzle and bushing are added to the rotating shaft to facilitate users to maintain the car better;
■ Rugged steel casing, easy to open, simple and convenient, easy to maintain and repair.