LT series pallet tilter are designed to lift the pallet and tilt it to the ergonomic angle.  LT10M  manual pallet tilter truck & LT10E electric pallet tilter truck are worked to allow the users to ergonomically reach loads easily without having to bend down or over-stretch. The Electric pallet tilt jack has forced steering on one wheel to make manoeuvring easy. Lift /lower functions are controlled by a switch on the control lever.Tilt/return functions are controlled by a remote control, which is fitted with a long wire,and can make the operator and the tilter with load keep a certain distance, more safer.Lift /lower function and Tilt/return functions can be operated independently of each other or simultaneously. When Tilt/return functions are to be used, the tilter must be on a firm surface, and the universal wheel shall be braked. When Tilt/return functions are to be used to stack materials, the handle can be turned to the side to make access to the stack table easier.
As a pallet lifting machine, this pallet tilter can be used as a pallet truck and also a pallet tilter truck, this can not only improve your work efficiency, but also save costs.
Handle can be turned and locked in position away from the work area. Its applies to both sitting and standing positions. Forks of the pallet tilt jack can be tilted up to 90 degree. They both are supplied as standard with parking brake and foot protectors.
Conforms to EN1757-1 and EN1175
LT0M manual pallet tilter          LT10E electric pallet tilter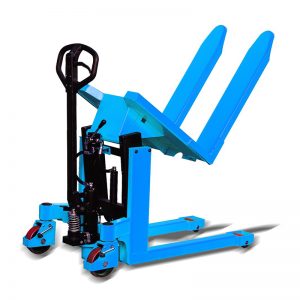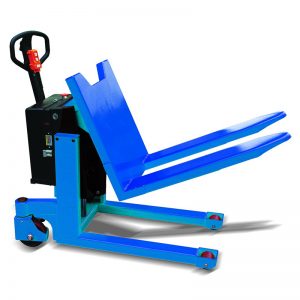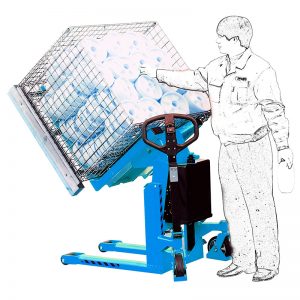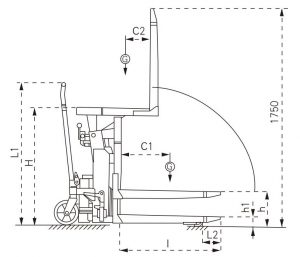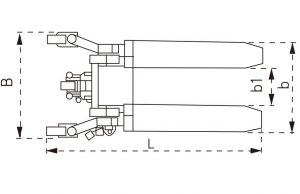 i-lift No.
1520902
1520903
Model
LT10M
LT10E
Type
Manual
Electric
Capacity
kg(lb.)
1000(2200)
Lifting height,vertical
h  mm(in.)
285(11.2)
Min.fork height
h1  mm(in.)
85(3.3)
Fork length
I  mm(in.)
800(31.5)
Handle height
L1  mm(in.)
1138(44.8)
Overall fork width
b  mm(in.)
560(22)
Width between forks
b1  mm(in.)
234(9.2)
Fork tip length from roller
L2  mm(in.)
135(5.3)
Overall Width
B  mm(in.)
638(25.1)
Overall Length
L  mm(in.)
1325(52.2)
1410(55.5)
Overall height,raised
H  mm(in.)
950(37.4)
Overall height,Lowered
H  mm(in.)
750(29.5)
Load centre   Min./Max.
C1  mm(in.)
200/400(8/16)
Load centre   Min./Max.
C2  mm(in.)
200/420(8/16.5)
Power Unit
KW/V
--
0.8/12
Net weight
kg(lb.)
178(391.6)
185(407)
Safety rules
1.Driving the tilter on the slope 
1) The tilter shall be unloaded or a small load.
2) The load shall be in the lowest position.
3) The gradient shall be no more than 2°when dragging the tilter.
4) The operator shall be on the upper position whether upgrade or downgrade.
2. Avoid offset loads
The load must be distributed evenly on forks or pallets, with a distance of 400mm between centre of gravity and forks front, the maximum height of center of gravity is 420mm, the minimum is 200mm, the distance out of this scope will reduce the level of safety and increase the risk.
Goods on pallets or forks must be properly secured, avoid unbalance the load, so that they can not fall off during transport, when the truck is lifted, or when the truck must remain lifted for a time.
3.Driving loaded
The tilter is designed for use on even and level floor. During transport the forks shall be raised as little as possible. Transport with raised forks should be made over the shortest possible distances and at low speed. Do not transport when tilting goods on the tilter, this is not safe.
Warning: Never place hands or feet on the moving parts, occurring the risk of injury.