This Series PJ.R (Adjustable fork) and PF.R (Fixed fork)  manual platform light stacker are designed for alise working area. It is the perfect solution for lifting and positioning cumbersome office files, computer equipment and mailroom supplies, as it is easily maneuvered in confined spaces. Office Lift features an easy to use foot operated hydraulic pump and its small body for added flexibility. Durable steel construction, with chrome-plated rails and handles, ensures years of service. This manual light stacker rolls easily with floor-protective 5" polyurethane swivel casters with brakes and 3" phenolic load wheels and it is easily for one person operation. Easy to manoeuvre thanks to the integrated rear steering wheels, whilst operating the stacker is even easier as a result of the foot pump in addition to the hand lever type pump found on most pallet trucks, this makes for an ideal solution in confined areas where pumping the handle would not be possible.
PJ series fork type light stacker including PJ2085R, PJ2120R, PJ4085R, PJ4120R, PJ4150R. PF series fixed fork type light stacker including PF2085R, PF2120R, PF4085R, PF4120R, PF4150R and PF4150R. The difference between PJ and PF series is PJ is light stackers with adjustable fork and PF series are with fixed fork.
Fork and platform optional made this stack wagon not only a pallet lifting machine but also a work positioner, normally used in warehouse, factory, workshop, office or home using.
For this platform stacker, we also have an electric model, if you need electric work platform stacker, pls click this.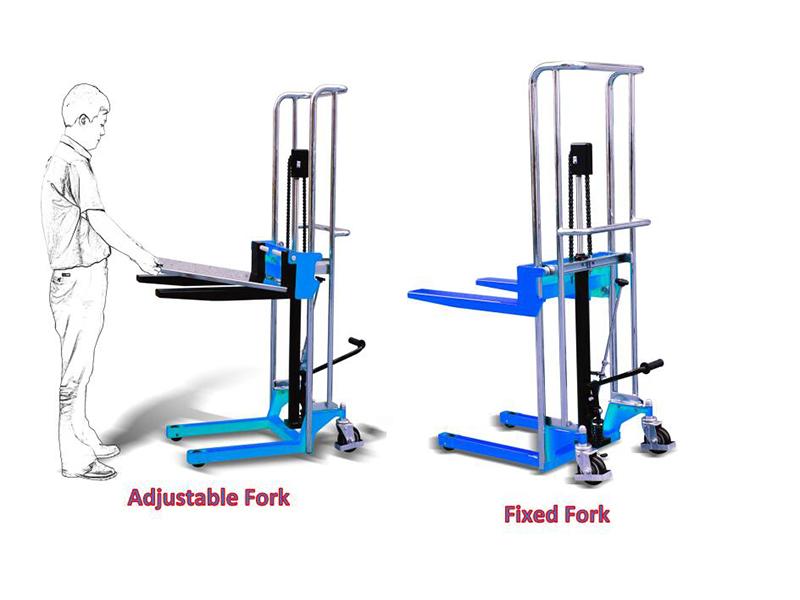 Powder coated provides visibility and corrosion resistance. High quality pump ensures long time using and no oil leakage.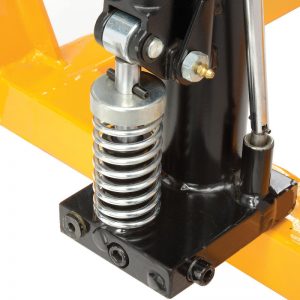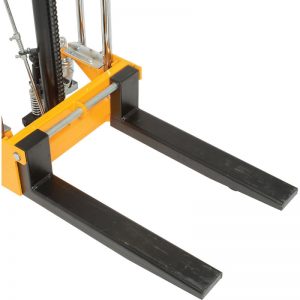 5" Polyurethane swivel wheels with brakes provide surface protection, unit stability and maneuverability.  3" phenolic rigid wheel ensures content stability and even transport.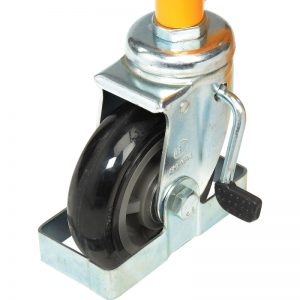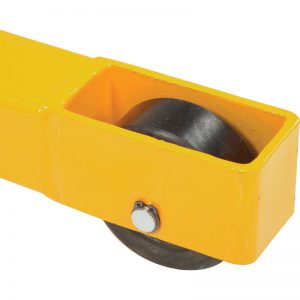 "Plate" is optional as an accessory.                                                  Stainless steel platform stacker is  optional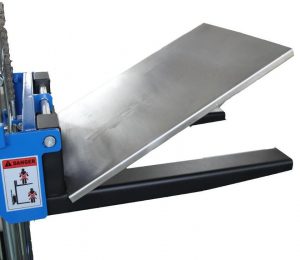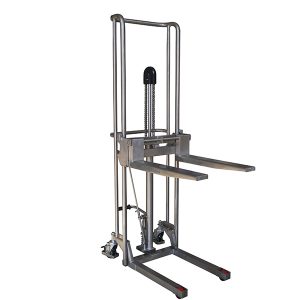 i-lift No./Model(Fixed Fork)
1510311/PF2085R
1510312/PF2120R
1510313/PF4085R
1510314/PF4120R
1510315/PF4150R
i-lift No./Model(Adjustable Fork)
1510316/PJ2085R
1510317/PJ2120R
1510318/PJ4085R
1510319/PJ4120R
1510320/PJ4150R
Capacity
 kg(lb.)
200(440)
400(880)
Max.fork height
 mm(in.)
850(33.5)
1200(47.2)
850(33.5)
1200(47.2)
1500(60)
Min.fork height
 mm(in.)
85±5(3.3±0.2)
Fork Length
 mm(in.)
650(25.6)
Fixed fork width(EF series)
 mm(in.)
550(21.7)
Adjustable fork width(EJ series)
 mm(in.)
215-500(8.5-19.7)
Load roller
 mm(in.)
75(3)
Dia of steering wheel
 mm(in.)
125(5)
Pump strokes to max.height
 mm(in.)
26
36
26
36
57
Overall height
 mm(in.)
1062(41.8)
1412(55.6)
1062(41.8)
1414(55.6)
1722(67.8)
Overall width
 mm(in.)
570(22.4)
Overall length
 mm(in.)
1100(44)
Net weight(EF series)
 kg(lb.)
70(154)
76(167.2)
70(154)
76(167.2)
82(180.4)
Net weight(EJ series)
 kg(lb.)
75(165)
81(178.2)
75(165)
81(178.2)
85(187)
Option Platform
LP10(650*530)
LP20(660*580)
---
1. With chain cover design, dustproof and rustproof, moredurable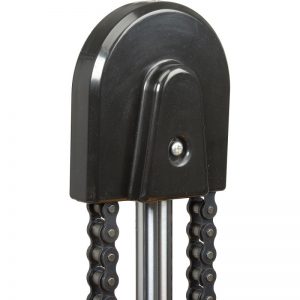 2. Manual valve design: Manually control the descent, only need to rotate the pressure relief valve counterclockwise during the descent.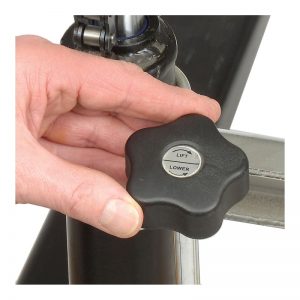 4. The extended pedal handle design, the pedal space is larger, and the pedal is more convenient to rise when lifting.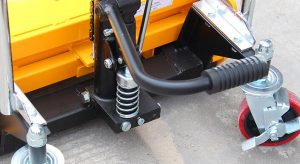 6. Multi-purpose for one vehicle: the platform and fork are dual-purpose, the plane can be replaced with a fork, which is convenient for disassembly and assembly.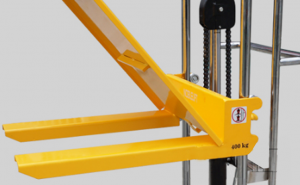 8. Steel guide wheel is more durable: ultra-high-strength steel guide wheel is more durable against wear and compression.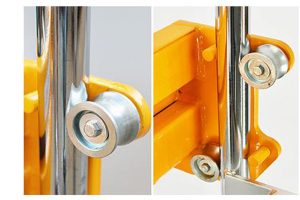 9. High-quality oil cylinder: high-quality oil cylinder and sealing ring, greatly improve the sealing performance, prevent oil leakage, reduce maintenance costs.