This EF (Adjustable fork) and EJ (Fixed fork) series work platform light stacker are designed for alise working area. It is the perfect solution for lifting and positioning cumbersome office files, computer equipment and mailroom supplies, as it is easily maneuvered in confined spaces. Office Lift features an easy to use foot operated hydraulic pump and its unique design for added flexibility. Electric light stacker with durable steel construction, with chrome-plated rails and handles, ensures years of service. This electric light stacker rolls easily with floor-protective 5" polyurethane swivel casters with brakes and 3" phenolic load wheels and it is easily for one person operation.
Platform Light Stacker is designed on the basis of Manual series Stacker. With a power pack and a high quality free-service battery, it is able to lifting or lowering load when operate. It can release labor and improve working efficiency. It mainly applies to transporting, lifting and stacking goods on level place. It is applicable widely in factory, store, hospital, warehouse etc. It becomes a most popular transporter with its many features such as easily operated, safety, automatic, high working efficiency. Low profile forks can lift the pallet easily. Meanwhile place the optional attachment (platform) on the fork, it will be used as a platform stacker.
EF series electric light stacker including EF2120R, EF4120R, EF415R and EJ series including EJ2120R, EJ4120R and EJ4150R. The differnence between EF and EJ series fork type light stackers is EFseries with fixed fork and EJ series are with adjustable fork.
As a light stacker manufacture, this series electric light stacker also have manual models, pls click this if you need manual light platform stacker.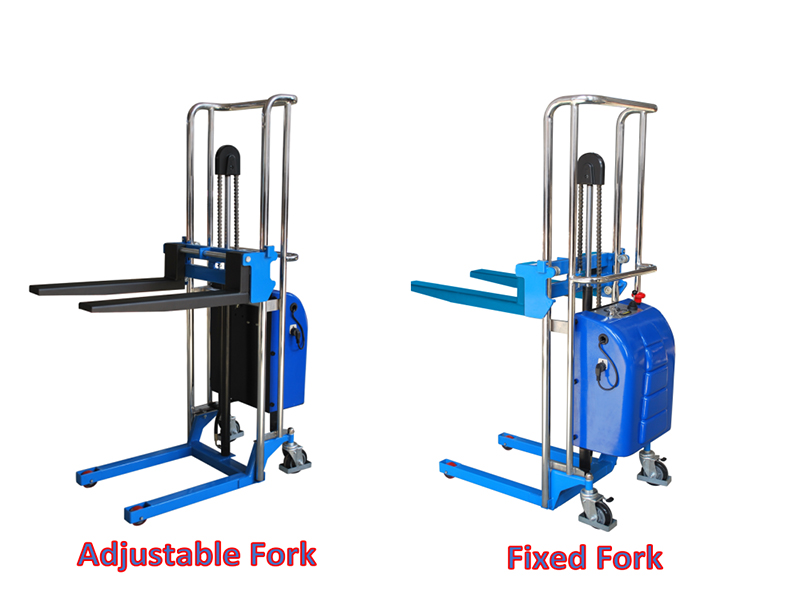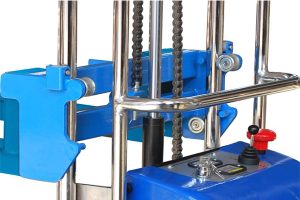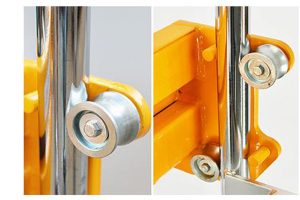 Platform is optional to be a work platform stacker.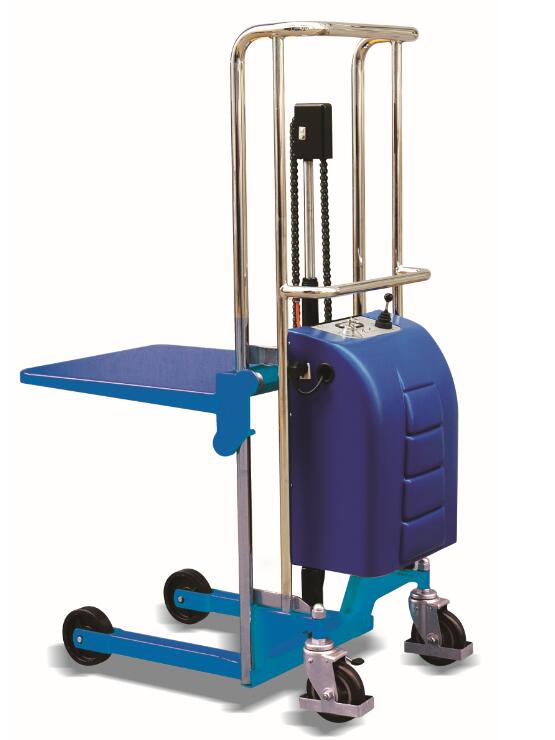 i-lift No./Model(Fixed Fork)
1510511/EF2120R
1510512/EF4120R
1510513/EF4150R
i-lift No./Model(Adjustable Fork)
1510514/EJ2120R
1510515/EJ4120R
1510516/EJ4150R
Capacity
 kg(lb.)
200(440)
400(880)
Max.fork height
 mm(in.)
1200(47.2)
1500(60)
Min.fork height
 mm(in.)
85±5(3.3±0.2)
Fork Length
 mm(in.)
650(25.6)
Fixed fork width(EF series)
 mm(in.)
550(21.7)
Adjustable fork width(EJ series)
 mm(in.)
215-500(8.5-19.7)
Single fork width
 mm(in.)
100(4)
Dia of front wheel
 mm(in.)
75(3)
Dia of steering wheel
 mm(in.)
125(5)
Chassis height
 mm(in.)
26.5(1)
Power Pack Motor
(KW)
0.8
Battery
Ah/V
70/12
Overall size(L*W*H)
 mm(in.)
1100*570*1412(44*22.4*55.6)
1100*570*1722(44*22.4*67.8)
Net weight(EF series)
 kg(lb.)
116(255.5)
122(268.4)
Net weight(EJ series)
 kg(lb.)
121(266.2)
127(279.4)
Option Platform
LP10(650*530)
LP20(660*580)
---
The work platform stacker is a ergonomically friendly lifter used for a variety of applications. Whether it's placing small pallets or containers from shelving, placing loads on work benches, or used as a work positioner; it's light tubular construction makes it easy to maneuver.
Safety Instruction
Use it on a level paved surface.Don't load over the maximum capacity and ensure the balance of loading.To cooling the temperature of power pack motor, it should be paused working for minutes after continuous working with load. Otherwise, it might cause damage to power pack.Recharge the battery when it has no enough power. Ensure local electric power matches the charge. Do not discharge the battery completely.Don't touch the chain or any other moving parts.Please close the electric control box before use.Inspection before UseAs EJ series Stacker is integer packing, it was adjusted. The owner should inspect the stacker before use as follows:Ensure all parts complete and in good condition. Do not use the stacker and contact local supplier in case of any parts missing or defective. Check electric control box.Ensure oil is full and no oil leakage in the hydraulic system.Ensure battery has enough power. The battery has been charged before shipment.But due to long time delivery, it would be low in power. When turn on the stacker, theVoltage meter shows 10.5V, or when lifting loaded, the coulometer shows 3 graduation and green lights, it needs recharged.Connect the power, the performance of lifting and lowering platform (fork) is normal when unloaded.Connecting power, when loaded platform (fork) lift and lower, there is no oil leak.Place the charger at a safety place.The work platform stacker's overall compact design allows it to get into the tightest of spaces. The battery operated lift includes a 12 volt battery and automatic on-board charger.