Heavy duty design with quality construction.
Straddle leg design makes it more stable.
Semi-electric design to reduce labour intensity and raise working efficiency.
This stacker can lift cargo and transport in short distance.
It has been widely used in workshop、warehouse、wharf、station、depot and so on.
Adjustable fork make it suitable for different pallet
This pallet stacker is a great economical solution for stacking and positioning pallets as well as stocking and refilling shelves.  Adjustable support legs and forks are designed to accommodate a variety of pallets and skids.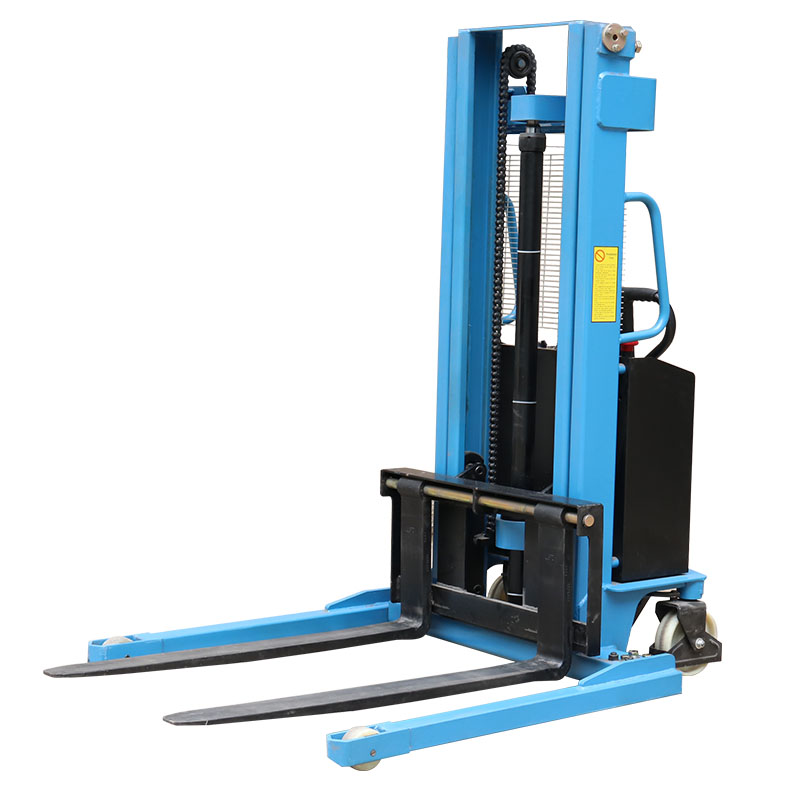 i-lift No.

1551019

1551902

1551903

1551904

1551905

1551906

1551907

1551908

Model

EMS1016

EMS1025

EMS1030

EMS1033

EMS1516

EMS1525

EMS1530

EMS1533

Capacity
kg(Ibs)
1000(2200)
1500(3300)
Lifting Height H
mm(inch)

75-1600(3-63)

75-2500(3-98.4)

75-3000(3-118)

7

5-3300(3-150)

75-1600(3-63)

75-2500(3-98.4)

75-3000(3-118)

7

5-3300(3-150)

Fork Length
mm(inch)
615(36)

Outside width between forks E

mm(inch)
190-800(7.5-31.5)
210-800(8.3-31.5)
Load center C
mm(inch)
400(15.7)
Min.outside turning radius R
mm(inch)
2200(86.8)
Min.Clearance from groud X
mm(inch)
≥30(1.2)
Max.lifting speed with full loading
mm/s
≥70
≥50
Overall Dimension
length A
1550(61)
Width B
1080-1360(42.5-53.5)
Height F
2020(79.5)
1770(69.7)
2020(79.5)
2170(85.4)
2070(81.5)
1770(69.7)
2020(79.5)
2170(85.4)
Load wheel
mm(inch)
100(4)
Steering wheel
mm(inch)
200(8)
Net Weight
kg(Ibs)
366(805.2)
448(985.6)
468(1029.4)
480(1056)
390(858)
472(1038.4)
493(1084.6)
513(1128.6)
Featrues :
Low Energy Consumption – With manual push-pull functions, the EMS1016 minimizes energy consumption and needs.
Load Versatility – With adjustable straddle legs and forks, this unit easily accommodates a variety of load sizes.
User-Friendly – Fully powered lift functions and an ergonomic handle offer a smooth and comfortable experience without the cost and upkeep of fully electric stackers.
Cost-effective – By eliminating a drive motor, the EMS1016 is available at a lower purchase price than a comparable electric straddle stacker while its reduced energy demands also decrease your operating costs.
Thickened and adjusted pallet fork:
Provide high strength load, ensure vehicle stability, not easy to deformation. Fork can be adjusted left and right, suitable for various sizes of pallets.
Foot pedal brake for safety and ramp usage.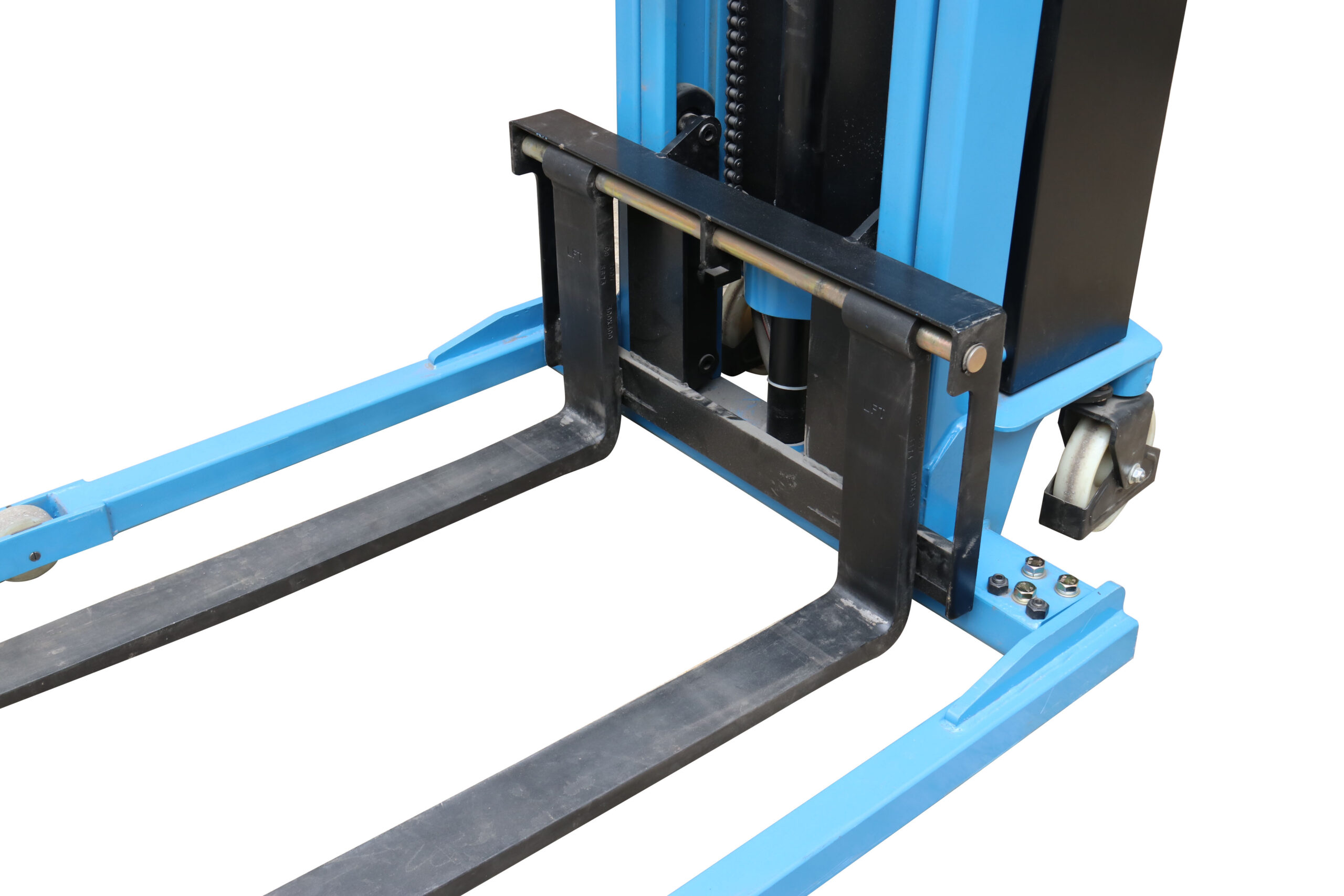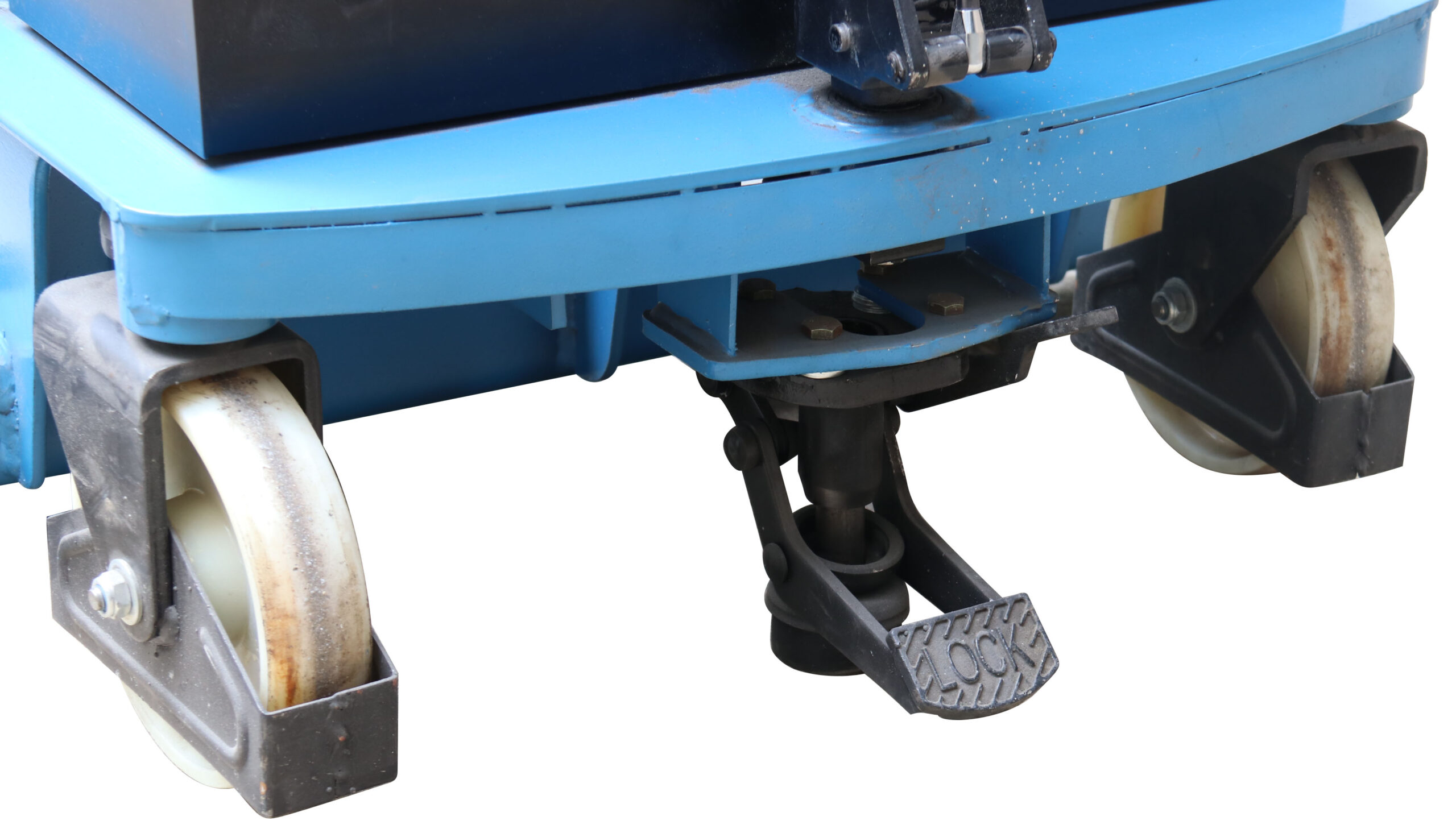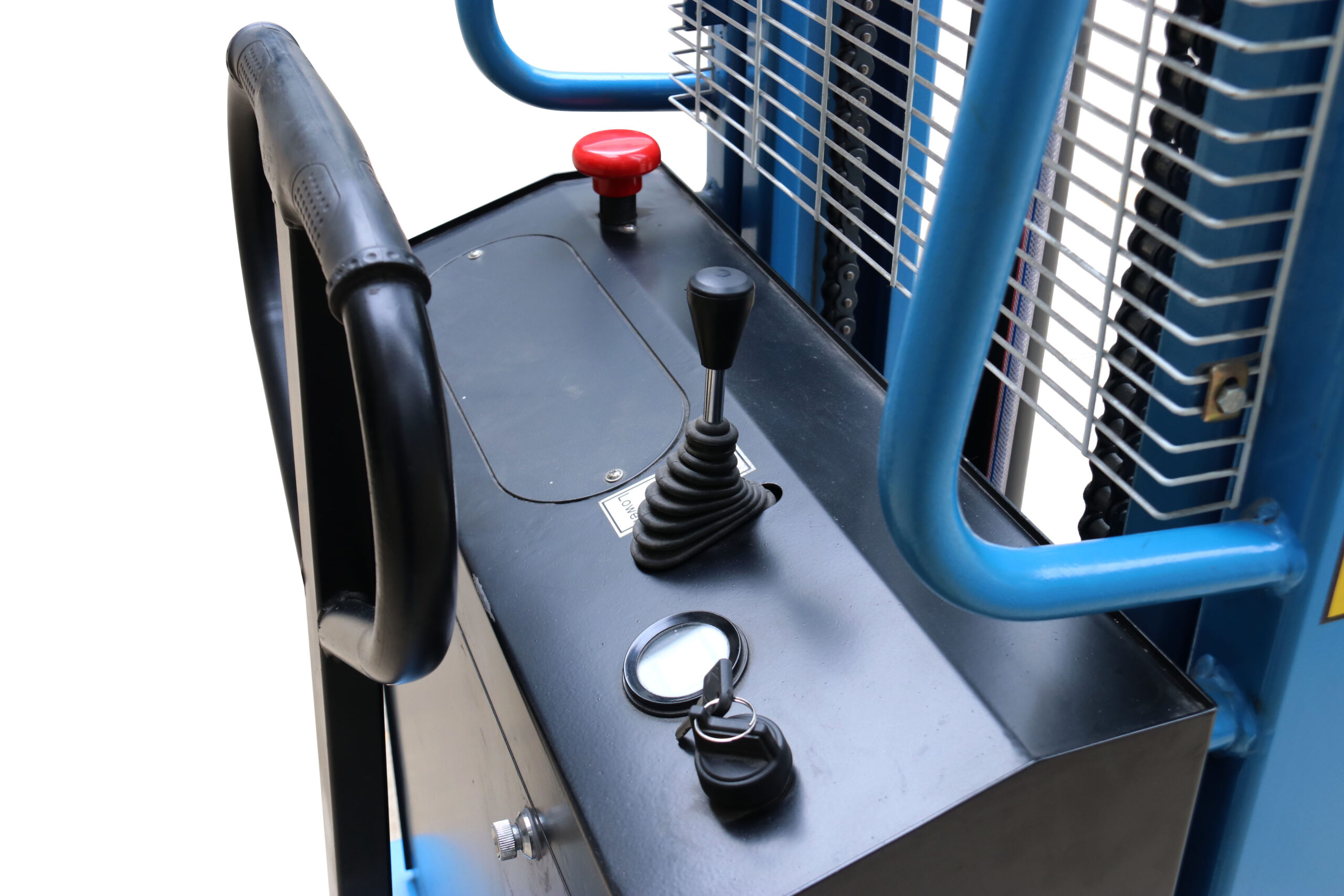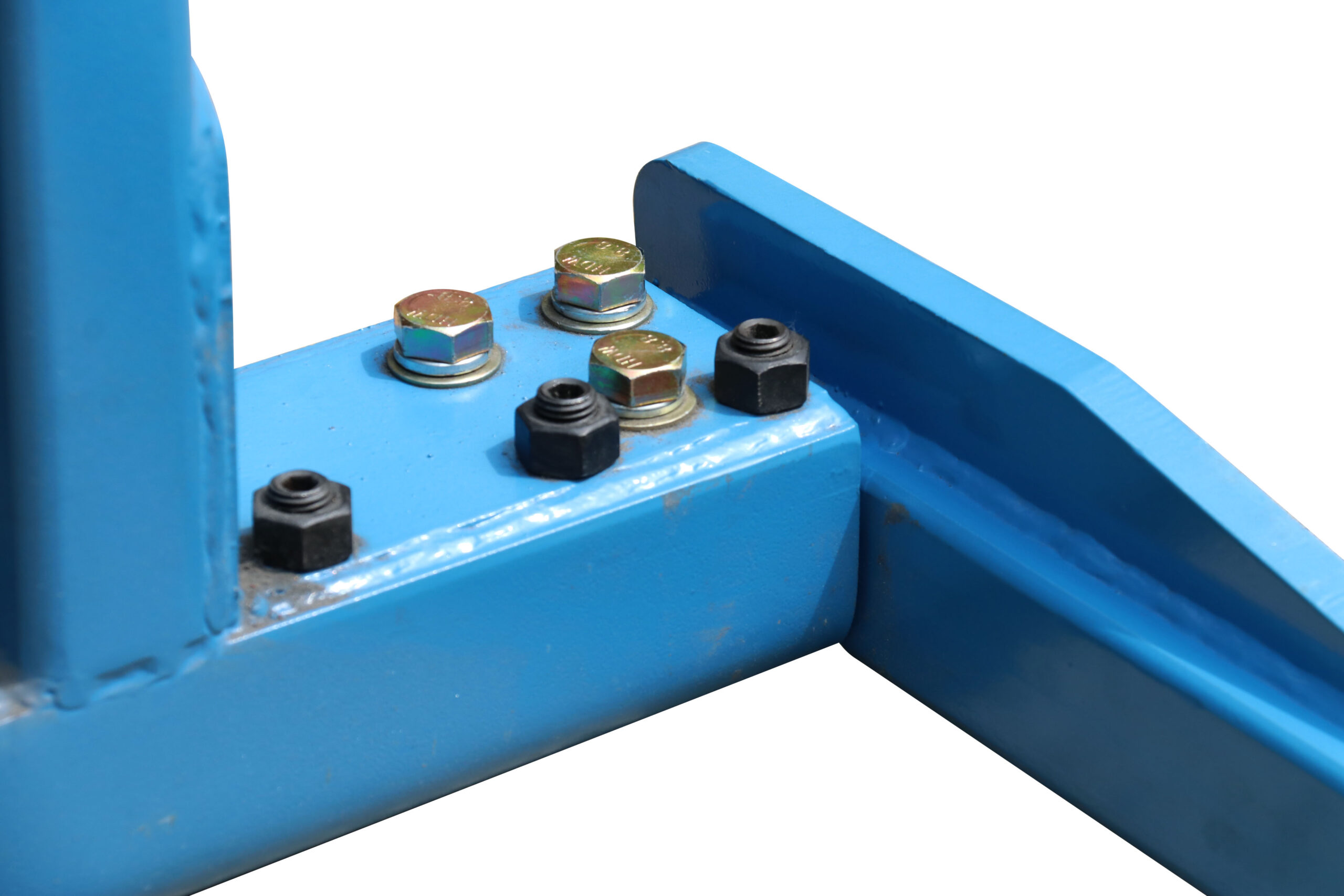 Electric Pallet Stacker Manufactruer :
As a professional manufacturer of various types of material handling & lifting products, Semi-Electric Pallet Stacker is one of our main products. In addition to this, we can also manufacture various kinds of pallet trucks, stackers, lift tables, forklifts, crane, drum handling, forlift attachment, skates, jack, puller, hoist, lifting clamp and so on. If you would like to purchase one type of material handling equipments, you can send us email from this page for quotation now. And if you are interested in our other products, welcome to contact us via e-mail or other ways that listed in the page. We will reply you in 24 hours.