BK1545 Heavy duty full electric lift stacker  is designed as highly-versatile and thin lift that effectively addresses almost any type of primarily indoor of form application.....
▲ Heavy duty design with top quality mast construction, strong and durable, ensures longer service time..
▲ Powerful drive wheel and power unit made in Europe. High quality hydraulic power pack, low noise, few vibration and excellent leak tightness, ensures smooth lifting.
▲ Top quality electronic control system from CURTIS, high reliability, ensures best performance in different states.
▲ Conforms to EN1757-1:2001, EN 1726.
▲Battery stacker FK1545 and BK1545 are 4500mm lifting height, BKW1555 is 5500mm lifting height with straddle leg for pallets handling.
▲Optional humanized designed of handrail and foldable pedal, easy operating.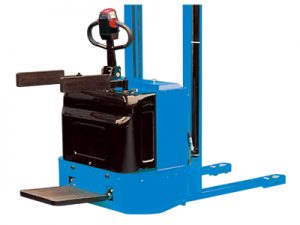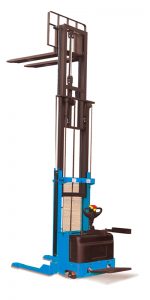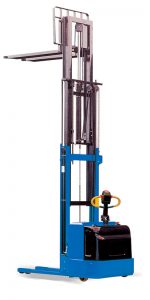 ▲Optional HU-LIFT ergonomic tiller made in Germany.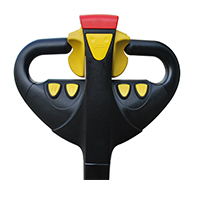 i-lift No.
1551101
1551102
1551103
Model
FK1545
BK1545
BKW1555
Type
Standard
Platform
Platform
Capacity
kg(lb.)
1500(3300)
Load Centre
mm(in.)
600(23.6)
Max.fork height
mm(in.)
4500(177.2)
5500(216.5)
Lowered fork height
mm(in.)
90(3.5)
65(2.6)
Full Free Lifting Height
mm(in.)
1550(61)
1717(67.6)
Fork Length
mm(in.)
1150(45.3)
1000(40)
Fork Overall width
mm(in.)
560(22)
200-950(8-37.4)
Fork individual width
mm(in.)
160(6.3)
100(4)
Traveling Speed(with&without load)
(km/h)
5.2/6.8
Lifting Speed(with&without load)
(mm/s)
127/170
Lowering Speed
(mm/s)
150/128
127/170
Motors Travelling
(W)
1200
Motors Lifting
(W)
3000
Front roller,Tandem
mm(in.)
78*70(3*2.7)
Rear roller
mm(in.)
150*50(6*2)
Drive wheel
mm(in.)
250*80(10*3.1)
Traction battery
(Ah/V)
240/24
Battery charger
(A/V)
30/24
Weight of battery
kg(lb.)
230(506)
Overall Dimensions
mm(in.)
2013*940*2175
2507*940*2175
2000*1200*2560
(98.7*42.5*85.6)
(100*42.5*85.6)
(80*47.2*100.8)
Net Weight(without battery)
kg(lb.)
1010(2222)
1035(2277)
1370(3014)
Attention and Warning:
There should be a safety sign on the outside of the door frame.

The stacking truck should have an obvious lifting position.
The obvious position of the stacker frame should be marked with steel serial number.
 Before shipment, the manufacturer shall:
A) all random accessories and tools shall be rustproof or other protective measures;
B) apply anti-rust oil on the surface of all exposed unpainted parts of the stacking truck:
C) the hydraulic components that must be sealed must be approved by the inspectors before sealing;
D) sufficient lubricating grease shall be applied to all lubrication parts;
E) all parts of the stacking truck with relative motion shall be fixed accordingly:
F) hydraulic oil should be added to the specified position.