MSS series semi-electric lift stacker is designed with heavy duty and top quality mast construction for long service time. Safety guard on load roller and steering wheel to protect workers from induring during working.
Manufactured from a rugged steel construction, the semi-electric stacker's lift function is powered by a 12v electric motor with built-in charger. With electric lift and manual push, MSS series semi-electric pallet stacker is easy to control, and environmental efficiency, which is widely used in overhead cargo and pallet moving and stacking. Using this semi-electric stacker is safe and efficient in factories, warehouses, and logistics centers. While in some narrow passage, floors, and other high rack warehouses, using semi electctric lift stacker is more flexible, silent and environmental.
Pallet lift stackers are made using the highest quality materials and parts. All models are easily manoeuvrable using the standard pulling handle and the electro hydraulic trucks are steerable.
▲This hand operated electric forklift is manual moving and electric lifting.  More power for big cap . Traction battery for this battery stacker,▲ More reliable mast steel imported from Germany▲ Professional stacker with attractive outline▲ Optional built in charger.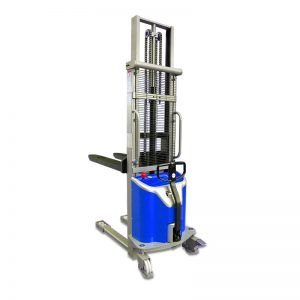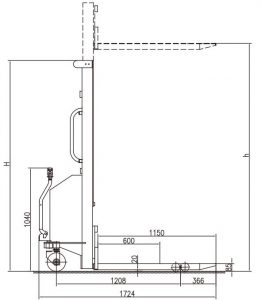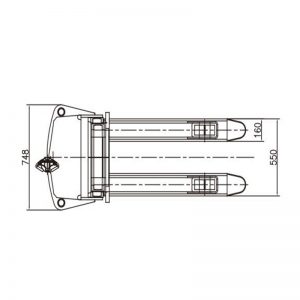 i-Lift No.
1550111
1550112
1550113
1550114
1550115
1550116
Model
MSS1016
MSS1025
MSS1029
MSS1031
MSS1033
MSS1516
Capacity
kg(lb.)
1000(2200)
Max. fork height
mm(in.)
1600(63)
2500(100)
2900(114.2)
3100(122)
3300(130)
1600(63)
Min. fork height
mm(in.)
85(3.3)
Load Centre
mm(in.)
600(23.6)
Fork Length
mm(in.)
1150(45.3)
Fork Overall Width
mm(in.)
550(21.7)
Single Fork Width
mm(in.)
160(6.3)
Lifting Speed
With Load
mm/s
70
75
75
75
80
75
Without Load
mm/s
95
95
100
105
110
95
Lowering Speed
With Load
mm/s
0~400
Without Load
mm/s
0~180
Power Pack
KW
1.5
Traction Battery
V/Ah
12/100
12/150
Battery Charger
V/A
12/18
12/18
12/18
12/20
12/18
12/18
Front wheel size
mm(in.)
80*70(3*2.6)
Rear wheel size
mm(in.)
180*50(7*2)
Turning Radius
mm(in.)
1377(54.2)
Overall Size(L×W×H)
mm(in.)
1724*748*2055
1724*748*1753
1724*748*1953
1724*748*2053
1724*748*2153
1724*748*2055
(67.4*29.5*80.9)
(67.4*29.5*69)
(67.4*29.5*76.9)
(67.4*29.5*80.9)
(67.4*29.5*84.8)
(67.4*29.5*80.9)