i-Lift PM120N manual mini winch platform is multifunction mini lifter with manual drive and winch lifting. This unit light winch platform stacker can avoid the risk of oil leakage from hydraulic stacker trucks, it is a lightweight design, which is very easy for one person operate by hand winch. PM120 is a model with forks, but PM120N is with a platform, they for different usage but they have the same working principle
It is widely used in supermarket, office, warehouse, narrow areas, etc…, especially  for dust-free environments. Two fixed wheels and two castor wheels with brakes .
The i-lift hand winch lifter is suitable for lifting and transporting loads of up to 120kg. Designed to operate in narrow, confined areas with heavy duty rear castor wheels thus providing a solution to light duty handling applications . The forks can be raised up to 1050mm so it provides the perfect answer to manoeuvring small goods or using as a working platform within your warehouse or storeroom. Easy to operate and comfortable to move.
Our manual lifting trolley is controlled manually – in other words, there are no electric controls. Instead, the operator simply pushes the stacker to the required location using its ergonomic handle. The forks can then be raised to the required height via the manual winch system with its self sustaining feature to hold the load at any level when the lever is released. Designed to considerably reduce the operator's effort and strain when handling heavy boxes or small goods. These manual winch mini lifters are best suited for light duty tasks and support busy working environments as an ergonomic lifting aid.
The portable loader range is designed to provide a flexible solution, working with light duty loads and small pallets. If however, you wish to work with euro pallets, then you'll need to consider a manual pallet stacker in order to pick them up. You may also want to consider our Hand Hydraulic Stacker 500kg,1000kg, 1500kg, 2000kg if you require a slightly taller lift height.
So, if you are working with loads weighing up to 120kg – The Manual Mini Lifter PM120 & PM120N offers the perfect solution. PM120N is a winch platform stacker, PM120 is a winch fork stacker.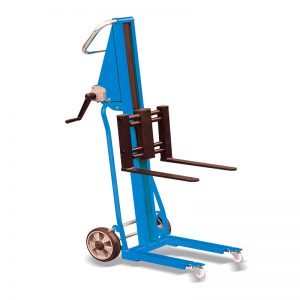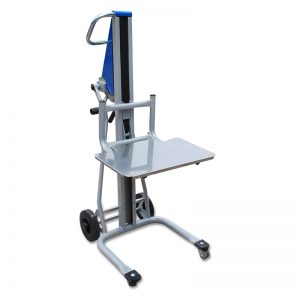 i-Lift No.
1520201
Model
PM120
Capacity
 kg(lb.)
120(264)
Max.fork height
 mm(in.)
1050(41.3)
Min.fork height
 mm(in.)
95(3.7)
Fork Length
 mm(in.)
400 (15.7)
Individual fork width
 mm(in.)
50(2)
Fork Overall Width
 mm(in.)
adjustable 345-485(9.6-19.1)
Load wheels
 mm(in.)
50(2)
Steering wheel
 mm(in.)
200(4)
Net Weight
 kg(lb.)
31(68.2)
i-Lift No.
1553101
Model
PM120N
Capacity
kg(lb.)
120(264)
Lifting height
mm(in.)
800(31.5)
Platform size
mm(in.)
576*400(22.7*15.7)
Max platform height
mm(in.)
910(35.9)
Min platform height
mm(in.)
90(3.5)
Load center
mm(in.)
150(6)
Load wheel
mm(in.)
φ200*50(8*2)
Caster
mm(in.)
40(1.5)
Net weight
kg(lb.)
25(55)
The features of Mini Stacker:
Lightweight design, very easy to operate by hand winch.
Suitable for supermarket, office, warehouse, narrow areas, etc…
Two load centers and two swivel casters
Rugged construction and overload protection.
Two models, fork and platform.
Manual winch lift.