i-Lift Forklift Jack comes in two different lifting capacity's 4000kg and 7000kg. With a minimum height of 65mm and a max height of 420mm makes these jacks perfect for lifting your forklift.
Proving to be extremely popular among maintenance companies and those who perform regular maintenance on forklift trucks, reach trucks, lift trucks etc.. Manufactured to the highest quality and guaranteed by the i-lift 12 months warranty.
This series Manual Hydraulic Forklift Jack allows the operator to easily raise a forklift weighing up to 8,000 lbs and 15400lbs for maintenance. Jack features high-quality seals, chrome plated internal components and steel construction. A maximum lift height of 16.5" provides enough lift to perform a variety of maintenance and repair tasks. Jack is raised manually using a hand pump lever. The i-lift forklift jack features a removable handle and compact size making it easy to maneuver and transport. Includes two jack stands with holding pins for height adjustment.
HFJ400/700 is forklift jack that offers high capacities and a robust and compact structure. It has a low pick-up point and a two position lift pad for hard to reach places under low-profile lift trucks. It also has a hydraulic pump with seal-kits and an overload valve. Furthermore, it complies with the CE and ANSI standard.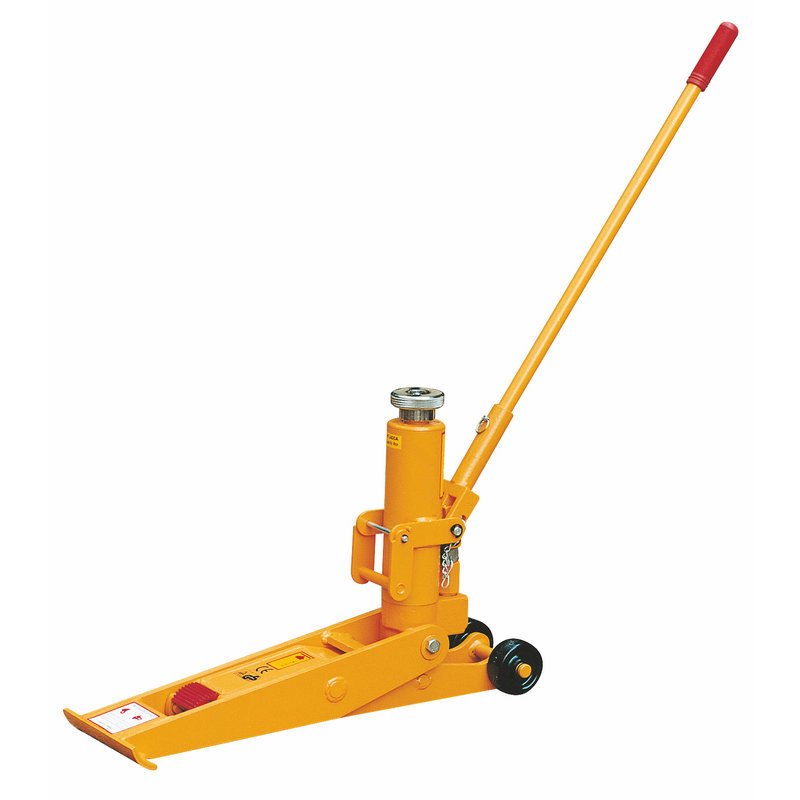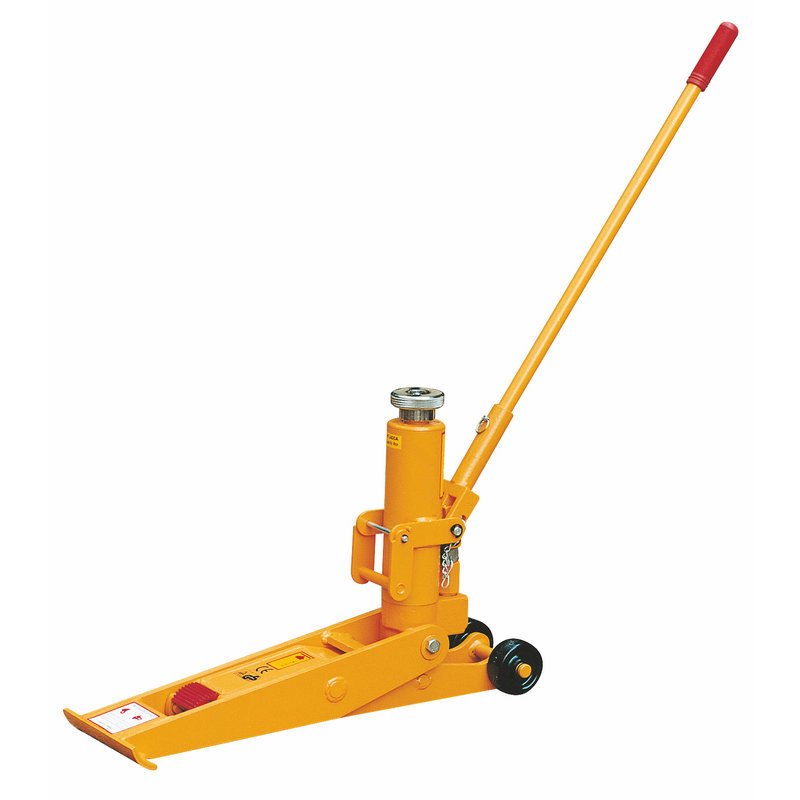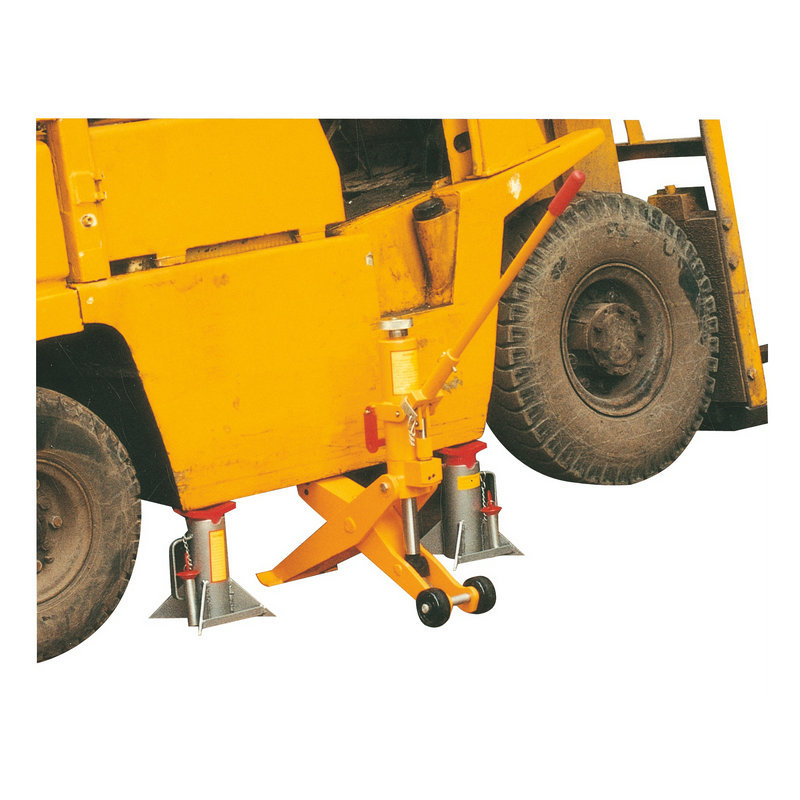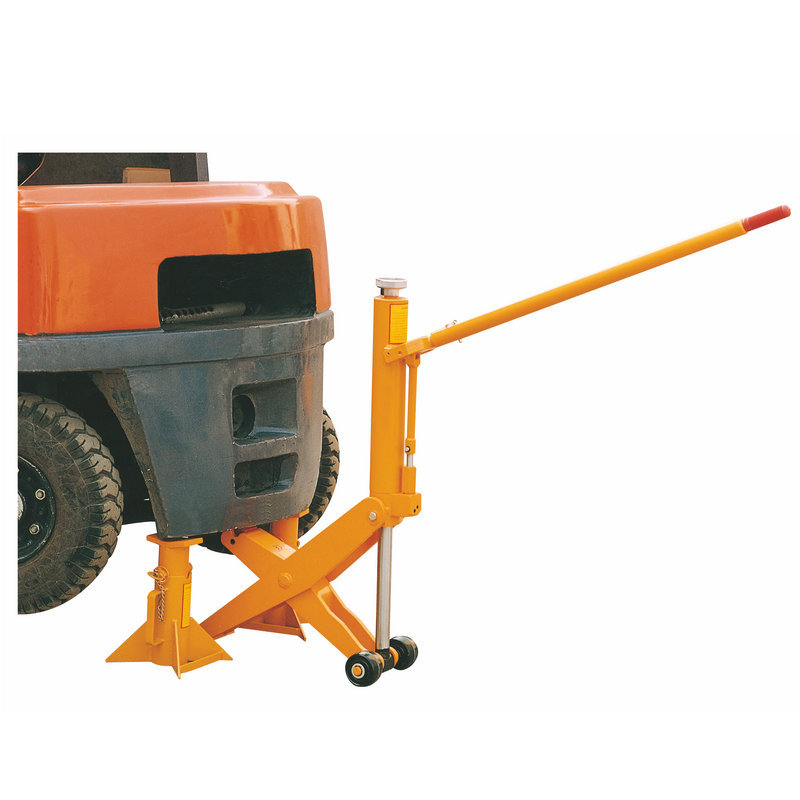 i-Lift forklift jack can be used together with forklift jack stands.
Technical Parameter of Forklift Jack:
| | | |
| --- | --- | --- |
| Model | HFJ400A | HFJ700A |
| Rated capacity     kg(lb.) | 4000(8800) | 7000(15400) |
| Lifting height         mm(in.) | 65-406(2.5-16) | 65-420(2.5-16.5) |
| Width                   mm(in.) | 203(8) | 250(10) |
| Pump stroke to max height | 45 | 45 |
| Packing size         mm(in.) | 700*240*460(27.5*9.5*18) | 780*290*520(30.7*11.4*20.5) |
| Net weight              kg(lb.) | 33(73) | 48(106) |
The Features of Forklift Jack:
High capacity and rugged structure.
Extra low pick up point and 2-position lift pad for hard to reach places under low profile trucks.
Specially designed hydraulic pump with German seal kits and overload valve.
Removable handle and compact size.
Conforms to CE standard and ANSI standard.
Attention and Warning:
When using, the bottom should be flat and tough. Oil-free wood panels are used to extend the pressure surface to ensure safety. It is forbidden to replace the board with iron plates, to prevent slipping.
It is required to be stable when lifting, and check for abnormal conditions after lifting the weight. If there is no abnormality, the ceiling can be continued. Do not arbitrarily lengthen the handle or operate too hard.
Do not overload or exceed high. When the sleeve has a red line indicating that the rated height has been reached, the jacking should be stopped.
When several hydraulic jacks are working at the same time, a special person must be instructed to make the lifting or lowering synchronous. The wooden blocks should be supported between two adjacent hydraulic jacks to ensure the spacing to prevent sliding.
When using hydraulic jacks, always pay attention to the sealing part and the pipe joint part, and it must be safe and reliable.
Hydraulic jacks are not suitable for use in places where there are acids, bases or corrosive gases.