i-lift forklift jack stands are designed to hold your fork lift truck in the raised position when performing repairs and maintenance. Includes two Jack Stands with heat-treated holding pins for easy height adjustability. Heavy duty steel construction features a wide base design for stability.
Forklift support stand design addresses safety and ergonomic risks associated with the manual handling of traditional steel stands in their placement and removal from under machinery and equipment. It has a heavy duty design and wide base and is used in pairs, and these are designed and dedicated to keeping you safe. Features a locking rack and pawl that give you the security and stability where you need it most. The large saddle surface area provides better contact with the load being supported. These stands will handle a wide range of vehicles including small cars and light duty trucks. Constructed of high-grade forged steel with a welded frame design, these jacks are built to exacting standards for quality and durability. The single piece self-locking, multi-position, forged iron ratchet bar provides precise adjustments.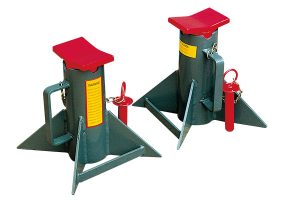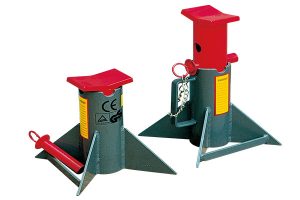 This jack stands can be used together with i-lift forklift jack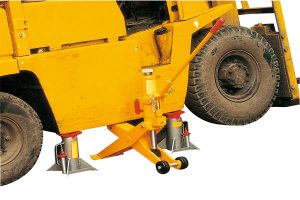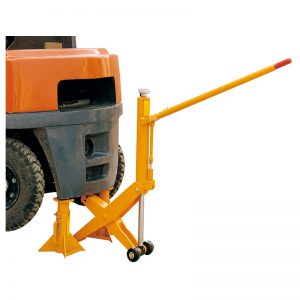 Technical Parameter of Forklift Support Stand:
| | | |
| --- | --- | --- |
| Model | HT-7 | HT-9 |
| Used with forklift jack | HFJ400 | HFJ700 |
| Capacity /Pair       kg(lb.) | 14000(30800) | 18000(39600) |
| Adjustable range    mm(in.) | 242-400(9.5-16) | 242-415(9.5-16.3) |
| Net weight         kg(lb.) | 13(28.6) | 115(33) |
The Features of Forklift Support Stand:
Heavy duty design and wide base.
Heat treated heavy-duty holding pins.
Provide support for forklifts or heavy machinery.
Engineered to eliminate failure points common with adjustable stands.
Lightweight, robust and corrosion resistant.
Increased service life with no maintenance.
Reinforced base plate.
Solid steel engagement head.
High strength composite support column.
Stores neatly and securely on support stand wall mounted storage system, reducing floor space.
Available in very low operating height ranges.