This DG series drum grab can carry one or two drums by the automatic grip lock, maintains a positive grip over rough floor surface. It is designed to cooperate with forklift conveniently. DG360A, DG360B and DG360C is for 1 drum, DG720A, DG720B and DG720C is for 2 drums. With the pure mechanical mechanism, it can automatically carry one barrel at a time, relying only on the action of forklift, and no other power is needed. This model can handle many different types of drums, such as steel oil drums and plastic oil drums. Automatic mechanical operation saves time and effort. Besides it is connected with the cargo fork with self-locking device to ensure that the oil drum will not slip when used on slope and bumpy road.
The gator grip auto lock feature will not open and ensures safe secure drum transport and it is automatic occlusion, so that the workers do not need to get off the car to operate it.
The grip head has can be adjusted to fit different drum height.
The drum grab has models DG360A, DG360B, DG360C, DG720A, DG720B, DG720C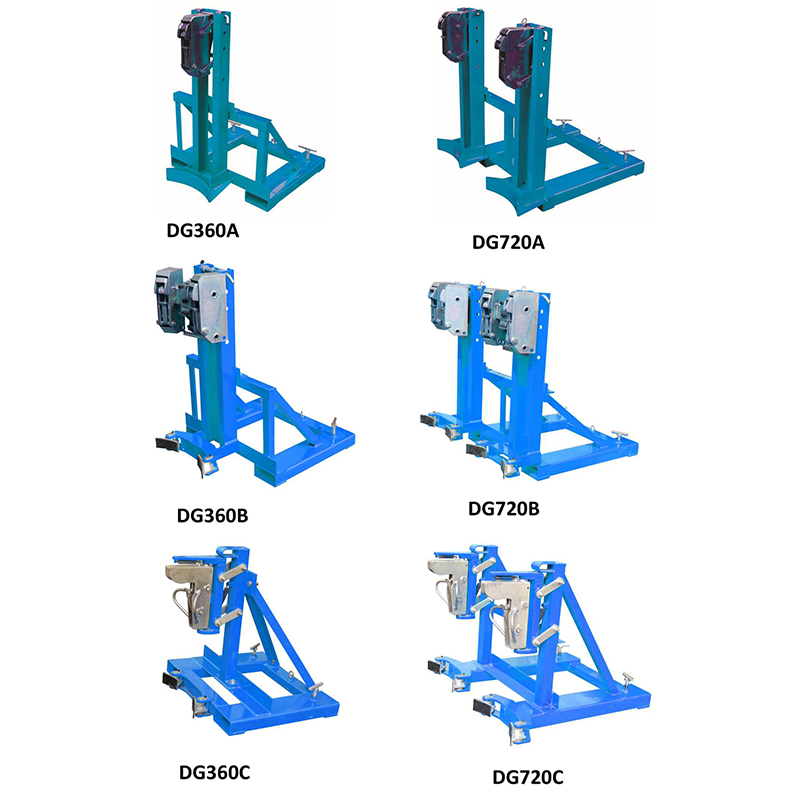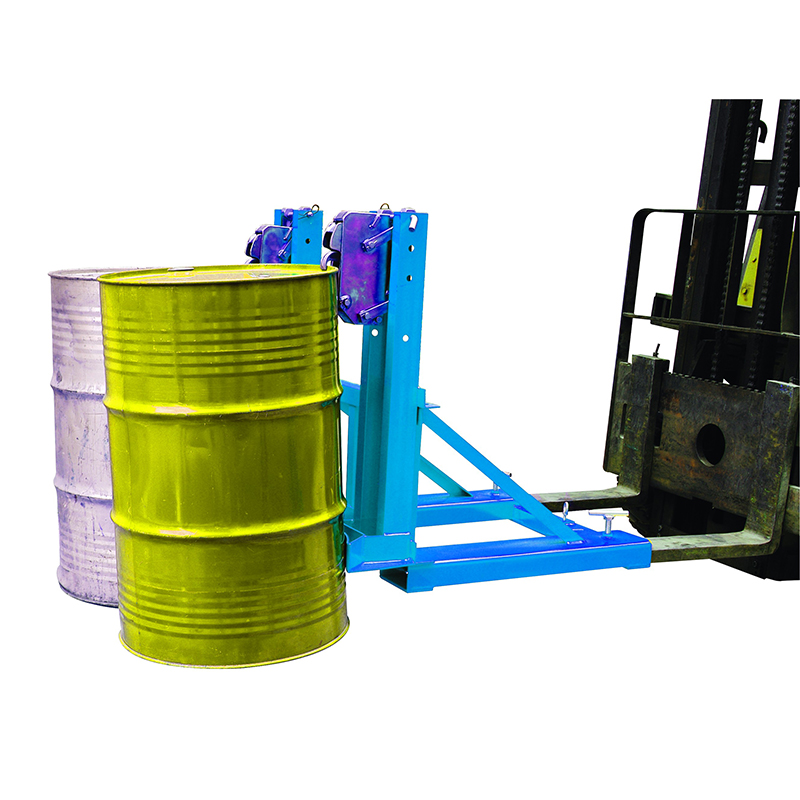 i-Lift No.
1712101
1712102
1712103
1712104
1712105
1712106
1712107
1712108
Model
DG360A
DG720A
DG360B
DG720B
DG360C
DG720C
DG360AX
DG500A
Capacity
 kg(lb.)
360(792)
360*2(792*2)
600(1320)
600*2(1320*2)
400(880)
400*2(880*2)
360(792)
500(1100)
Drum Size
 mm(in.)
55
55*2
55
55*2
55
55*2
30,55,80
30,55,80
Fork opening
 mm(in.)
560(22)
605(23.8)
560(22)
605(23.8)
560(22)
605(23.8)
670(26.4)
760(30)
Fork pockets
 mm
138*54
148*54
138*54
148*54
140*55
145*55
160*60
160*60
(in.)
(5.1*2.1)
(5.8*2.1)
(5.1*2.1)
(5.8*2.1)
(5.5*2.1)
(5.5*2.1)
(6.3*2.4)
(6.3*2.4)
Overall size
 mm
889*710*975
1010*960*780
910*640*610
1010*960*780
710*660*730
956*1077*730
780*670*850
880*670*850
(in.)
(35*28*38.4)
(40*37.8*30.7)
(35.8*25.2*24)
(40*37.8*30.7)
(28*26.28.7)
(37.6*42.4*28.7)
(30.1*26.4*33.5)
(34.6*26.4*33.5)
Packing size
 mm
910*640*610
1079*1050*975
950*710*975
1140*960*975
720*670*200
966*1087*740
800*700*240
820*820*620
(in.)
(35.8*25.2*24)
(42.5*41.3*38.4)
(37.4*28*38.4)
(44.9*37.8*38.4)
(28.3*26.4*8)
(38*42.8*29.1)
(31.5*27.5*9.4)
(32.3*32.3*24.4)
Net Weight
 kg(lb.)
60(132)
98(215.6)
71(156.2)
120(264)
60(132)
77(169.4)
43(94.6)
55(110)
The Features of Ali Grip Forklift Drum Grab:
Pure mechanical mechanism
Cooperate with forklift conveniently
Handle more types of drums, including steel oil drums and plastic oil drums
Fully automatic mechanical operation adapt to different specifications of the barrel.
Loading and unloading of barrel materials in such a narrow environment as containers can greatly improve the utilization of space
Each barrel has the automatic adjustment "eagle mouth" clamping claw mechanism to clamp