Transport drums with the Heavy-Duty Drum Dolly. This dolly will transport your heavier drums from location to location. Swivel casters with brakes standard. Large caster diameter rolls smoothly when loaded. Solid steel construction offers long lasting reliable use. This series is all for drum moving, SD3-5 and SD15-P is all plastic drum dolly and SD15-P can be used as a flower pot mover.
The drum mover has models DD55, SD15-P, DD15, DD55, AD45, SD3-5, SD55-O. SD55-H, SD55-Y, SD55-T.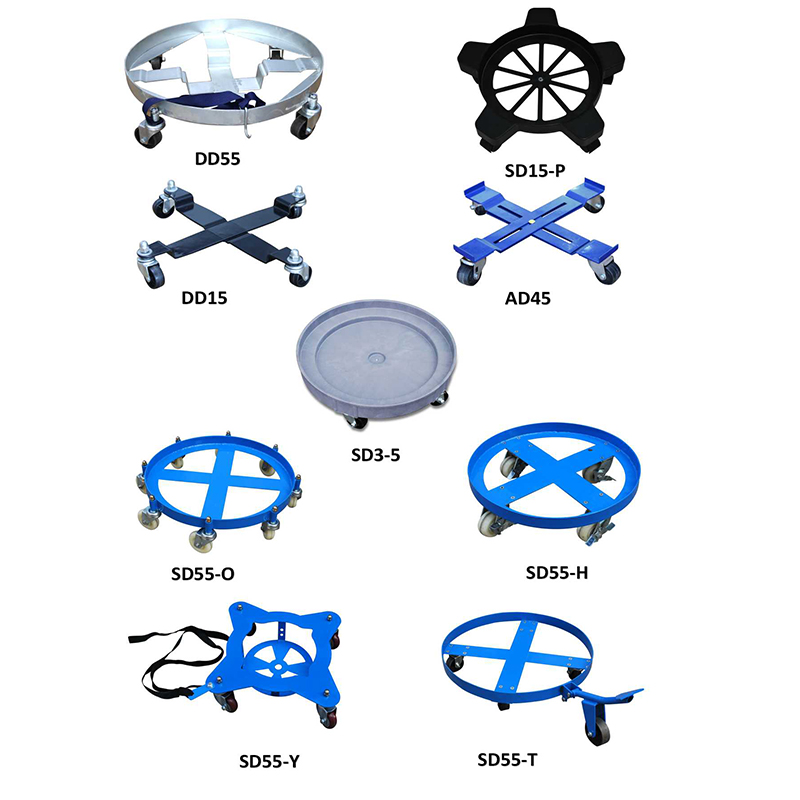 i-Lift No.
1712001
1712003
1712004
1712006
1712007
1712008
1712009
1712010
1712011
Model
SD15-P
SD3-5
SD55-Y
SD55-O
SD55-H
SD55-T
DD15
DD55
AD45
Capacity
 kg(lb.)
35(77)
410(902)
70(154)
900(1980)
410(902)
410(902)
15.9(35)
545(1200)
455(1000)
Drum Size
gallon
5/6/15
30/55
5
55
55
55
5
5/30/55
30/55/85/95
Inside Diameter
 mm(in.)
280(11)
480/595(19/24)
280(11)
615(24.2)
612(24.1)
612(24.1)
308(12.1)
597(23.5)
Adjustable
Net Weight
 kg(lb.)
1(2.2)
6.2(13.6)
6(13.2)
15(33)
17(37.4)
12(26.4)
2.1(4.5)
10.8(23.8)
8.7(19)
Model DD55:
Designed to haul up to a 30-gallon drum. Each dolly is capable of moving 1,000 lbs

Ideal for professional, garage and industrial use. Move different size drums with ease.
3" caster wheels with integrated ball bearings make moving a fully loaded drum a breeze. Move around

corners or through tight spaces with ease.

 Cross straps designed to prevent sagging or tipping. No need to

worry about accidents or spills.

Designed to last for years. Frame won't rust, splinter or rot.
SD3-5:
Smooth Rolling:Strong and durable dollies easily transport 30 or 55 gallon drums
Resist Oil and Water: Replaceable heavy-duty zinc plated casters feature single race bearings with 3×1 ¹/⁴''polyolefin tread.

Welded1/8''×2 ¹/⁸'' steel frame and 3¹/⁸'' cross straps

Plastic Drum Dolly: Resists rust, chipping, and denting

Zinc plated nuts and bolts.Heavy-duty swivel casters enhance mobility
After-sale service:
Each equipment comes with specs instruction
1 Year Limited Warranty
We have been in manufacturing drum handling for many years. And we have a professional and perfect after-sales service team.
Drum handling manufacturer:
As a professional manufacturer of various types of material handling & lifting products, drum handling is one of our main products. In addition to this, we can also manufacture various kinds of pallet trucks, stackers, lift tables, forklifts, crane, high lift scissor truck, pallet truck with weighing scale, work positioner, tiler table, Aerial platform, platform truck, table trolley,drum handling, forklift attachment, equipment mover,reel rack, stack rack, trailer stabilizer jack, hydraulic jack, forklift jack and so on. If you would like to purchase a type of material handling equipments, you can send us email from this page for quotation now. And if you are interested in our other products, welcome to contact us via e-mail or other ways that listed in the page. We will reply you in 24 hours.