This series can use a forklift to lift the drum vertically from a small space, making the forklift a mobile crane. During the lifting process, the drum clamp will automatically tighten according to the weight of the oil barrel to prevent the oil barrel from falling off. Drum lifter is specially designed to move and lift drum in upright position safely, mainly used for oil rigs, industrial and marine applications. Usually, it works together with the crane or sling in the factory. This drum lifter has 500 kg capacity, which is much more than the weight of a full loaded conventional oil drum. When it works, the heavier the thing, the tighter the clamp on both sides. Moreover, it is shipped partly disassembly to save freight cost.
There are 4 different models optional as below:
DLGV500
▲ This Vertical Drum Lifter is designed to attach to a crane or hoist and grab and transport 55 gallon closed head steel drums to other locations.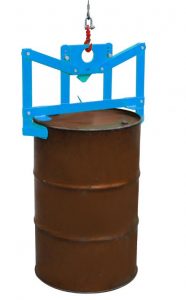 DLGH500
▲This product is a professional tool used for lifting, transporting and stowing 33 gallon and 55 gallon steel or polyethylene drums open or closed.
▲It is designed with a 3 point drum contact with stabilizing arm which reduces damage to the drum and automatically engages the drum rim when lowered.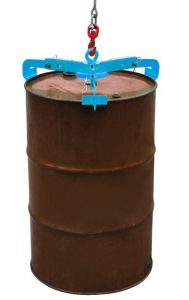 DLG350
▲This Drum Lifter is a professional tool used for lifting, transporting and stowing 55 gallon closed-head steel drums.
▲It is designed with a safety lock pin that prevents drums from opening when being transported and a lifting eye
that is mounted on top of four 1/4 x 1" hot-rolled steel brackets.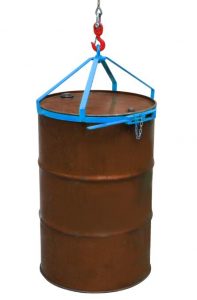 DLGS500
▲This product is a professional tool used for 55 gallon and 85 gallon closed steel drums.
▲It is designed to lift and place a 55 gallon steel drum into an 85 gallon steel or poly salvage/overpack drum.
▲Shipped assembled.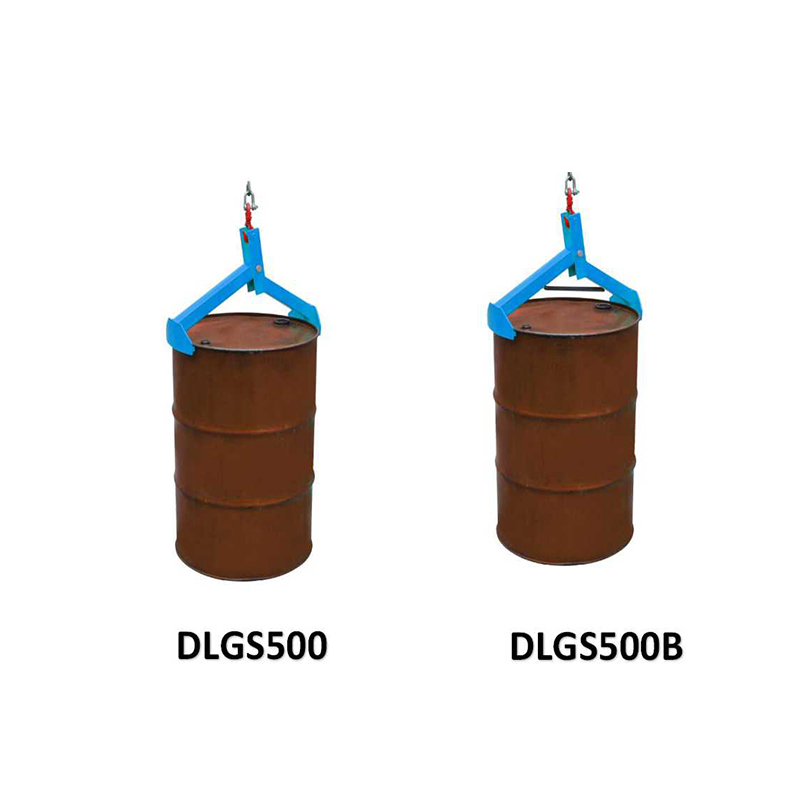 i-lift No.
1714101
1714201
1714301
1714401
1714402
Model
DLGV500
DLGH500
DLG350
DLGS500
DLGS500B
Max. weight capacity
kg(lb.)
500(1000)
500(1000)
350(700)
500(1000)
Drum typed lifted
55 gallon
33/55 gallon
55 gallon
55/85 gallon
Closed-head steel drum
Closed-head steel & poly drum
Closed-head steel drum
Net weight
 kg(lb.)
30(65)
13(29)
9(20)
7(15)
Overall dimension    H*W*D
 mm(in.)
470*737*200
215*711*711
H=330(13) W=584(23) Dia.=575(22.5)
406*228*610
(18.5*29*8)
(8.5*28*28)
(16*9*24)
Attention and Warning:
---
Add a little light mechanical lubricant to each moving part to ensure the safety of each part.
Confirm that the weight of the oil drum and its contents is not more than the maximum rated load.
When lifting drums, it should be hoisted smoothly and should not be lifted too fast.
When putting down the drum, it should be placed gently, in order not to cause damage to the drum.
When lifting and lowering the drum, the drum lifter must be raised and lowered vertically.
All this four models can be used together with forklift hooks as below.