HP series hand pallet truck has a built in overload valve and totally sealed hydraulic pump, german seal kit offers long span life of pump. Heavy duty and reinforced forks for greatest strength and durability. Entry rollers prevent physical exertion of the operator and protect load rollers and pallet.
Maintenance free oil-less bushings at key points reduce operating force and prolong life span of the pallet truck. Rugged construction and excellent pricing make this pallet truck the best value for your material handling needs. Forks feature entry rollers and tapered design for easy pallet and skid entry, and are reinforced for heavy duty loads. This pallet jack has a 3-function hand control (raise, neutral and lower) and offers a spring-loaded self-righting safety loop handle to enhance comfort and ease of operation. Hardened chrome piston with protective dust cover ensures long, dependable service of this skid lift jack. Floor protective polyurethane steer and load wheels. Durable powder coat finish.
The pallet truck has models HP20S, HP20L, HP25S, HP25L, HP30S, HP30L.
Quick lift pallet truck as HPQ series,  Pallet truck wih hand brake as HPH series. Pallet truck with deadman brake as HPD series. Pallet truck with foot brake as HPJ series.
                                                    Pallet truck with backrest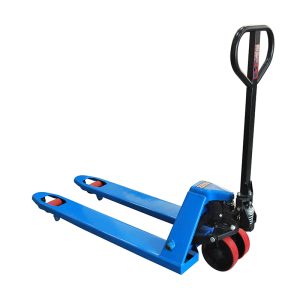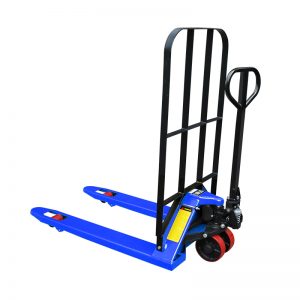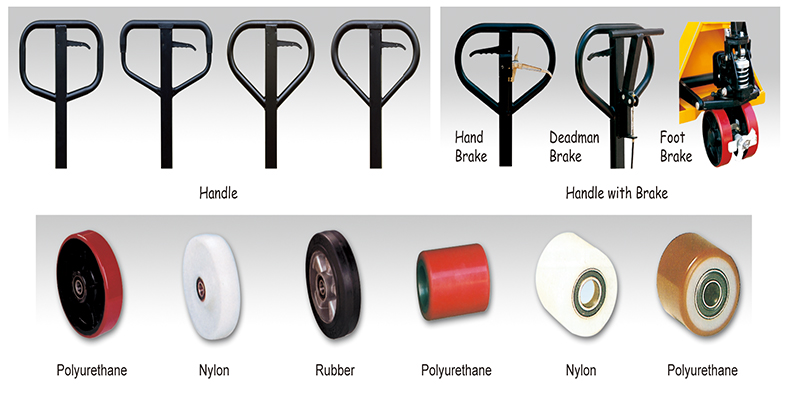 i-Lift No.
1110101
1110102
1110103
1110104
1110105
1110106
Model
HP20S
HP20L
HP25S
HP25L
HP30S
HP30L
Capacity
 kg(lb.)
2000(4400)
2500(5500)
3000(6600)
Max.fork height
 mm(in.)
205 or 195(8.1 or 7.7)
Min.fork height
 mm(in.)
85 or 75(3.3 or 3)
Fork Length
 mm(in.)
1150(45.3)
1220(48)
1150(45.3)
1220(48)
1150(45.3)
1220(48)
Width overall forks
 mm(in.)
540(21.3)
680(27)
540(21.3)
680(27)
540(21.3)
680(27)
Individual fork width
 mm(in.)
160(6.3)
Load roller  dia* width
 mm(in.)
Tandem 80*70 or 74*70(3.1*2.8or2.8*2.8), single 80*93or74*93(3.2*3.8or2.8*3.8)Nylon,Polyurethane,Rubber
Net Weight
 kg(lb.)
78(171.6)
82(180.4)
75(165)
84(184.8)
85(187)
89(195.8)
Quick lift(6 pump strokes)
1110107/HPQ20S
1110108/HPQ20L
1110109/HPQ25S
1110110/HPQ25L
1110111/HPQ30S
1110112/HPQ30L
With hand brake
1110113/HPH20S
1110114/HPH20L
1110115/HPH25S
1110116/HPH25L
1110117/HPH30S
1110118/HPH30L
With deadman brake
1110119/HPD20S
1110120/HPD20L
1110121/HPD25S
1110122/HPD25L
1110123/HPD30S
1110124/HPD30L
With foot brake
1110125/HPJ20S
1110126/HPJ20L
1110127/HPJ25S
1110128/HPJ25S
1110129/HPJ25S
1110130/HPJ30L
---
Video
As a pallet truck manufacture(pallet jack manufacture), i-Lift also have electric pallet truck, high lift scissor pallet truck, rough terrian pallet truck, hand pallet truck(hydraulic pallet truck), low profile pallet truck, stainless pallet truck, galvanized pallet truck, roll pallet truck, pallet truck with scale, skid lifter pallet truck, weighing pallet truck and so on.
SAFETY RULES of Manual Pallet Truck(manual pallet jack)
For safe operation of the Hand Pallet Truck, please read all warning signs and instructions here and on the pallet truck prior to use.Safety rulesTo avoid hazardous situations, you should obey the following rules:Fall HazardDo not use as a personnel lifting platform or step.Tip-over HazardsDo not overload the machine.The machine can be only used on a firm, level surface.Do not use the machine on the condition of drop-offs, holes, bumps, debris, unstable surfaces or other possible hazardous conditions.The machine can be only used in the light environment of at least 50LUX.Collision hazardsDo not lift if the load is not properly centered on the forks. Check the "Diagram of correct centered load" on the manual for correct load center position.Check the work area for overhead obstruction or other possible hazards.4)  Bodily Injury HazardsRecommended operators to wear safety shoes and gloves.Do not put the hands and feet under the forks when using the machine.5)  Improper Use HazardNever leave a machine unattended with a load.Damaged Machine HazardsDo not use a damaged or malfunctioning machine.Conduct a thorough pre-operation inspection prior to each use.Be sure that all decals are in place and legible.Lifting HazardUse proper lifting techniques to load the machine.