HPW series pallet truck with scale is designed for pallet lifting, transporting and weighing. It can be used as a pallet truck and also a weighing cart as this weighing pallet truck can weighing the weight of the loads on the pallet accuracy . Especially used for factory, logistics industry and so on .
Rugged construction and excellent pricing make this economic pallet truck the best value for your material handling needs. Forks feature entry rollers and tapered design for easy pallet and skid entry, and are reinforced for heavy duty loads. This pallet jack has a 3-function hand control (raise, neutral and lower) and offers a spring-loaded self-righting safety loop handle to enhance comfort and ease of operation. Hardened chrome piston with protective dust cover ensures long, dependable service of this skid lift jack. Floor protective polyurethane steer and load wheels. Durable powder coat finish.
The weight pallet truck with scale has model HPW20S, HPW20L
▲ Equipped with Mettler-Toledo indicator.
▲ Features weighing accuracy ±2kg in 2000kg.
▲ Rollers/Wheels: Nylon, Polyurethane, Rubber.
i-Lift No.
1210501
1210502
Model
HPW20S
HPW20L
Capacity
 kg(lb.)
2000(4400)
Max.fork height
 mm(in.)
205(8.1)
Min.fork height
 mm(in.)
85(3.3)
Fork Length
 mm(in.)
1150(45.3)
Individual fork width
 mm(in.)
168(6.6)
Fork overall width
 mm(in.)
555(21.9)
690(27.2)
Net Weight
 kg(lb.)
85(187)
88(193.6)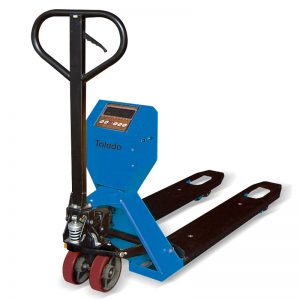 As a pallet truck manufacture(pallet jack manufacture), i-Lift also have electric pallet truck, high lift scissor pallet truck, rough terrian pallet truck, hand pallet truck(hydraulic pallet truck), low profile pallet truck, stainless pallet truck, galvanized pallet truck, roll pallet truck, pallet truck with scale, skid lifter pallet truck, weighing pallet truck and so on.
---
How to expel air from the pump unit of the weiging pallet truck
The air may come into the hydraulic because of transportation or pump in upset position. It can cause that forks do not elevate while pumping in the ASCENT position. The air can be banished in the following way: Let the control lever to the LOWER position, then move the handle up and down for several times.
The Battery Information and Replacement
The scale is equipped with a group of 6pc batteries.The red indicator will glitter when the battery is low. It would be time to power down and change or charge the batteries, depending on whether the unit is rechargeable or not.
How to replacement the battery of the pallet truck with scale.
The lift-span of the battery is about 1year or so, it depends on the frequency of use. If you find the duration of the battery is very short, the battery should be replaced by a new one.
1) Remove the Screw , disassemble rear cover;
2) Open the rear plate of the indicator, take out the battery;
3) Install new battery, and assemble the rear plate of the indicator;
4) Use 4pcs of screw  to fix the rear cover.