Single sensor scale pallet truck load indicator has a patented single sensor mechanism (patent number is 6855894). The single sensor is fixed on top of the pallet jack A-frame. With this sensor, chassis deformation under load is measured. The sensor then converts this measurement into a weight indication in increments of 10 lb. The tolerance is 0.9% of total capacity. This unit has several uses, including basic check weighing, preventing overloads on Lorries and warehouse racks, checking shipping weights, and confirming incoming goods, which can provide significant time, cost and labor savings.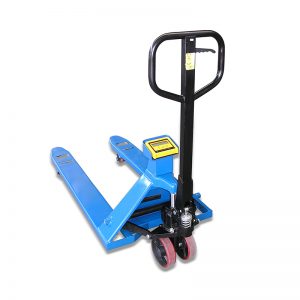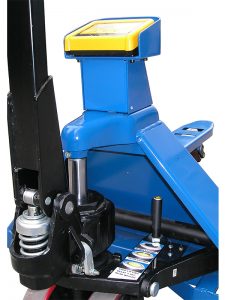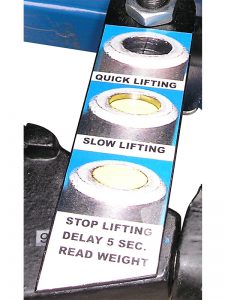 i-lift No.
1210204
Model
SSS25L
Capacity
 kg(lb.)
2500(5500)
Graduation
 kg(lb.)
5(11)
Tolerance
0.9% of full capacity
 kg(lb.)
+/- 20(44)
Fork size
Length
 mm(in.)
1220(48)
Overall fork width
 mm(in.)
685(27)
Individual fork width
 mm(in.)
160(6.3)
Steer wheels
 mm(in.)
180(7)
Load wheels
 mm(in.)
70(3)
Load center
 mm(in.)
600(23.6)
Lowered height
 mm(in.)
75(3)
Raised height
 mm(in.)
195(7.7)
Net weight
 kg(lb.)
92(202.4)
The Features of Single Sensor Scale Pallet Truck Load Indicator:
Simple check weighing, for avoiding overloads on lorries and warehouse racking, for determining shipping weights and verifying incoming goods. Weighing during transport saves time, money and manpower.
Stronger than normal scale pallet jacks:
No height increase; easy entry into pallet
No added weight because of double fork structure; user friendly.
Indestructible: the sensor does not take the load, it only measures deformation. Sensor cannot be broken by direct impact or by overloading.
One single sensor means low power consumption: work three times on a single battery charge. Automatic shut-off after 3 minutes gives 400 weighing actions on one battery charge.
Power supply: 4AA penlight batteries(customer may use rechargeable batteries.
Attention and Warning:
Before and after the use, the appearance, acoustic signal, starting, running, and braking performance should be checked. Fill with lubricating oil and cooling water.
Before starting, observe the surrounding area and confirm that there are no obstacles to the safety of driving.
When loading the goods, adjust the distance between the two forks as needed to balance the load of the two forks. Do not deflect. One side of the object should be placed against the rack. The height of the load should not obscure the operator's sight.
Do not raise the fork too high when driving. When entering or leaving the work site or on the road, pay attention to the presence or absence of obstacles in the sky. When the load is driving, if the fork rises too high, it will increase the overall center of gravity of the forklift and affect the stability and accuracy of the pallet truck.
After unloading, first lower the fork to the normal position before driving.
When turning, if there are pedestrians or vehicles nearby, you should first signal and prohibit fast sharp turns. Rapid sharp turns can cause the forklift scale to lose its lateral stability and tip over.