This digital floor scale(mobile floor scale) with indicator stand provides measuring accuracy for multiple environments including warehouses, distribution centers, shipping yards, and more. The durable steel construction is designed to support heavy duty content ensuring years of reliable service in harsh working conditions. The multifunction LED display provides high readout visibility in dark or dimly lit environments for user convenience. The scale includes dual ramps and a tread plate surface for easy item entry and slip prevention. The integrated carry handles allow convenient scale mobility and transport. Indicator stand included.
Design as floor scale, but can move with four castors.Four alley tool steel potted load cells.Deluxe stainless steel indicator as standard.Two slopes are fixed to the platform as standard.Supplied flat-pack for easy assembly.
The scale has models NC1000A, NC1000B, NC1000C, NC1500A, NC1500B, NC1500C with different capacity 1000kg and 1500kg, and different platform size 1x1m, 1x1.2m, 1.5x1.5m.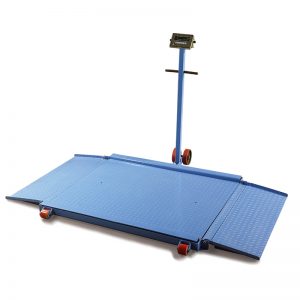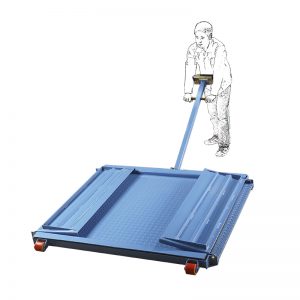 i-Lift No.
1210701
1210702
1210703
1210704
1210705
1210706
Model
NC1000A
NC1000B
NC1000C
NC1500A
NC1500B
NC1500C
Measuring Range
 kg
1000
1500
Indexing Accuracy
 kg
0.5
Sensor Capacity
 kg
1000
2000
Sensor Number
4
Platform Size
mm
1000*1000
1000*1200
1500*1500
1000*1000
1000*1200
1500*1500
Overall size with slopes
mm
2000*1300
2000*1500
2500*1800
2000*1300
2000*1500
2500*1800
Height
mm
60
Net Weight
 kg
180
200
280
180
200
280
---
Mobile Floor Scale mainly used in pharmaceutical, catering, packing line, food processing, warehouse, retail outlets, etc... Feel free to send us email to tell us more about your requirements; we will reply you in 24 hours.
Types of mobile weighing cart:
As a weighing equipment manufacture, i-Lift also has single sensor scale pallet truck load indicator (SSS25L), high lift scissor truck with scale, pallet truck scale, mobile weighing cart with Galvanized (ZFG20), mobile weighing cart with stainless #316 (ZFS), mobile floor scale (NC), "U" table scale (ND), low profile floor scale (NA), crane scale (CW)    and so on.
After-sale service:
Each equipment comes with specs instruction
1 Year Limited Warranty
We have been in manufacturing Weighing Scale for many years. And we have a professional and perfect after-sales service team.
Weighing scale manufacturer:
As a professional manufacturer of various types of material handling & lifting products, floor scale is one of our main products. In addition to this, we can also manufacture various kinds of pallet trucks, stackers, lift tables, forklifts, crane, drum handling, forlift attachment, skates, jack, puller, hoist, lifting clamp and so on. If you would like to purchase one type of material handling equipments, you can send us email from this page for quotation now. And if you are interested in our other products, welcome to contact us via e-mail or other ways that listed in the page. We will reply you in 24 hours.