Tilt work table is a specific form of lift table that is ergonomically engineered to lift and tilt the load being handled. This lift and tilt motion gives the worker easy ergonomic access inside for loading and unloading purposes. Lift and tilt tables help workers avoid unnecessary bending, stretching, and lifting. These ergonomic lifts allow the worker to adjust the level of the load on the lift table resulting in increases in production and minimizing worker fatigue, injuries, and product damage. Loading and unloading times can be greatly reduced as well as product damage.
The Mobile Tilting Work Table is designed to bring work to an ergonomically correct position, helping to foster more comfortable and productive work environment. Working in a comfortable position also reduces fatigue and risk of injuries. The platform height and tilt angle are manually adjustable. The polyurethane swivel casters (two double locking) allow unit to be transported from one work area to another while loaded.
Adjustable work positioners reduce strain and overexertion by positioning the work load at the height preferred by the user. A telescoping shaft has a safety lever that enables the user to select the most convenient height. The platform can be set at various heights and tilted to a specific angle.
Four all swivel casters with caster brakes provide a stable and mobile base for the work positioner. The platform can be placed flat or tilted up to 40° with a 1.25" lip providing load support. A grease fitting at the top of the cylinder allows for easy maintenance.
▲TWS150 and TWS300 are tilting work stand, MLT2000-1 and MLT2000-2 are mechanical lift table.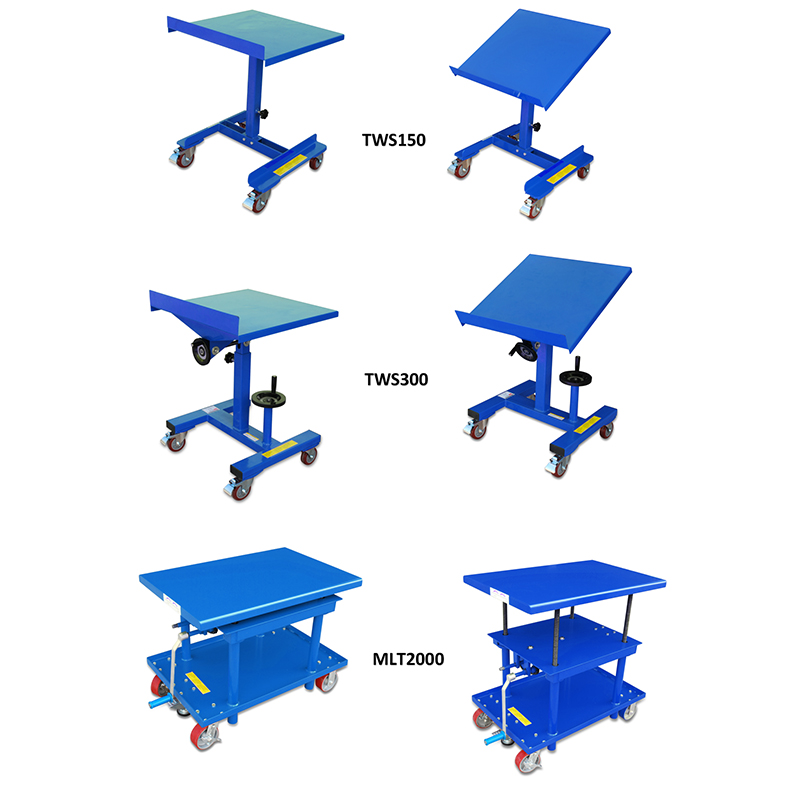 i-lift No.
1320101
1320102
1320201
1320202
Model
TWS150
TWS300
MLT2000-1
MLT2000-2
Type
Tilting work stand
Mechanical lift table
Capacity
 kg(lb.)
70(154)
140(308)
1000(2200)
Platform size
mm(in.)
560*533(22*21.8)
610*610(24*24)
610*914(24*36)
762*1220(30*48)
Raised height
mm(in.)
960(37.8)
1066(42)
1066(42)
Lowered height
 mm(in.)
711(30.5)
800(31.5)
610(24)
Fast/Slow
------
Fast/Slow
Tilt angle
0-45°
0-30°
------
Caster
4 swivel casters, 2 with brake
2 rigid, 2swivels with brake
Packing size
mm(in.)
580*580*190
640*650*790
650*960*650
800*1250*650
(22.8*22.8*7.5)
(31.5*25.6*31)
(31.5*37.8*25.6)
(31.5*49.2*25.6)
Net weight
kg(lb.)
25(55)
39(85.8)
60(132)
65(143)