Self-propelled Electric Lift Table features a proven Curtis controller and Hall accelerator to provide effortless lifting, lowering and movement of heavy loads. A push of a button will raise and lower the platform, and a twist style throttle with reverse powers the front drive wheels. Battery operated scissor lift Table has a 24V DC battery operated unit features an on-board battery charger and maintenance free batteries. Meets EN 1570 norm and ANSI/ASME safety standards.
This series full electric lift table is self-propelled and electric lifting, Emergency reverse button for maximum safety in emergency situations. Uniquely designed tool storage box helps store tools.
ESM series self-propelled electric lift table has differnent models like ESF50, ESF50D, ESM50, ESM50D, ESM80 and ESM91D, they are different from the handle and the scissor, ESF50, ESM50 and ESM80 are single scissor lift table and ESF50D, ESM50D, ESM91D are doule scissor lift table.  ESF50 and ESF50D are fixed handle and the others are middle steering handle.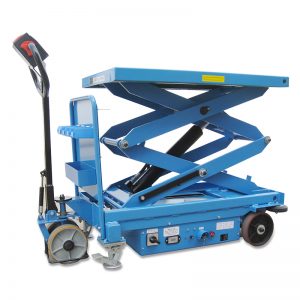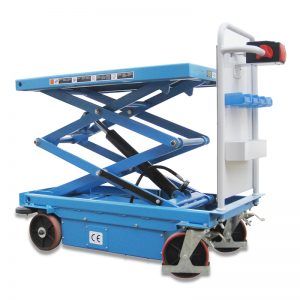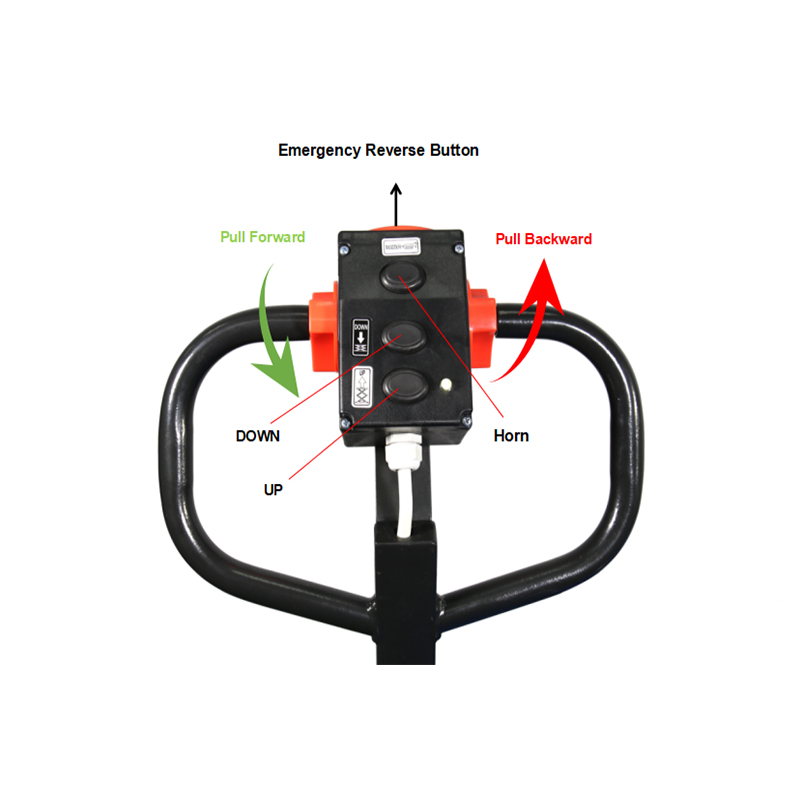 Video Show:
i-Lift No.
1310201
1310202
1310203
1310204
1310205
1310206
Model
ESF50
ESF50D
ESM50
ESM50D
ESM80
ESM91D
Type
Fixed Handle
Middle Steering Handle
Capacity
 kg(lb.)
500(1100)
910(2000)
Table size(L*W)
 mm(in.)
1020*610(40.2*24)
Table height(Max./Min.)
 mm(in.)
1000/460(40/18)
1720/460(68/18)
1000/460(40/18)
1720/470(68/18)
1075/460(42/18)
1850/520(73/20.5)
Lifting Cycle
55
40
55
40
45
40
Wheel Dia.
 mm(in.)
200(8)
Lifting/Lowering Time
second
15/15
Overall size
 mm(in.)
1200*670*1030(47.2*26.4*40.6)
1400*670*1170(55*26.4*46.1)
Net Weight
 kg(lb.)
214(470.8)
220(484)
220(484)
235(517)
240(528)
250(550)
Attention and Maintenance:
Charge the charger for more than 12 hours when it is used for the first time. Check whether the electrical connectors of the electric lifting platform are loose when charging. If the electric connector of the electric lifting platform is loose, it should be tightened and then recharged.
Check the parts of the electric lifting platform for deformation and bending;
Check if the brakes of the electric lifting platform are malfunctioning and the wear of the wheels of the electric lifting platform;
Check the hydraulic system of the electric lifting platform for oil leakage;
Check the high-pressure fuel pipe of the electric lifting platform for damage. If is damaged, it should be replaced in time. Or the rupture in using will cause a major danger;
Fill the friction surfaces with lubricating oil before using the electric lifting platform every day;
Recharge in time after using the electric lifting platform every day;
If the electric lifting table is faulty, it should be repaired before use;
Replace the hydraulic oil of the mobile table every 12 months, and select the correct hydraulic oil according to the climatic conditions of different regions;