Vertical plate clamp is designed to vertically lift and turn plate material from all positions (horizontal, vertical and sidelong). It is made of high quality carbon steel, and meets ASME standard. Besides, this vertical lifting clamp uses articulated lifting shackle. The clamps are equipped with a safety mechanism, ensuring the clamp does not slip when lifting force is applied and when load is being lowered.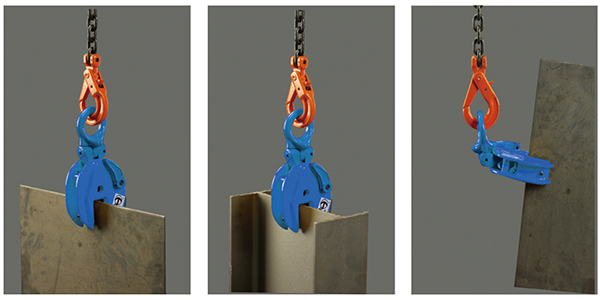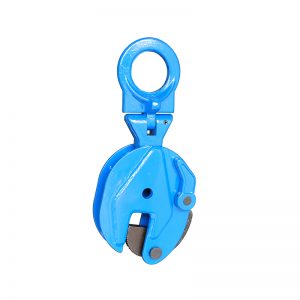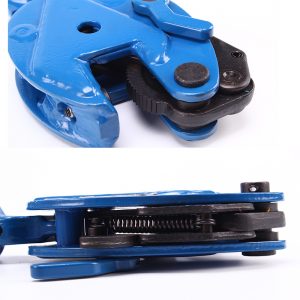 ---
i-Lift No.
2212301
2212302
2212303
2212304
2212305
2212306
2212307
2212308
2212309
2212310
2212311
2212312
Model
ICD08
ICD10
ICD10(B)
ICD16
ICD20
ICD32
ICD32(B)
ICD50
ICD50(B)
ICD80
ICD120
ICD160
WLL
kg(lb.)
800(1760)
1000(2200)
1600(3520)
2000(4400)
3200(7040)
5000(11000)
8000(17600)
12000(26400)
16000(35200)
Jaw Opening
mm(in.)
0-15(0-0.6)
0-20(0-0.8)
0-25(0-1)
0-30(0-1.2)
0-50(0-2)
0-45(0-1.8)
50-90(2-3.5)
60-100(2.4-4)
Weight
kg(lb.)
2(4.4)
4(8.8)
5(11)
7(15.4)
8(17.6)
15(33)
21(46.2)
23(50.6)
37(81.4)
50(110)
65(143)
Note: Not designed to use on stainless steel or aluminum plates. For use only with materials with a surface hardness below HRC 30 (HB 300, Brinel 1300).
Types of clamp:
As a professional clamp manufacturer for many years, we have developed various kinds of clamps, such as Beam clamp, Vertical plate clamp (lock lever type), Vertical plate clamp (lock handle type), Plain trolleys, trolley clamp, geared trolley, etc…
After-sale service:
Each equipment comes with specs instruction
1 Year Limited Warranty
We have been in manufacturing Hoist and clamp equipment for many years. And we have a professional and perfect after-sales service team.
Hoist and clamp manufacturer:
As a professional manufacturer of various types of material handling & lifting products, hoist and clamp series is one of our main products. In addition to this, we can also manufacture various kinds of pallet trucks, stackers, lift tables, forklifts, crane and so on. If you would like to purchase a type of clamps, you can send us email from this page for quotation now. And if you are interested in our other products, welcome to contact us via e-mail or other ways that listed in the page. We will reply you in 24 hours.