▲Heavy duty design.
▲Suitable for European pallet.
▲Chrome plated lifting piston.
▲Conforms to CE safety standard.
▲Outrigger width for European standard pallets.
▲2 differnent capacity, SA500 is for 350kg(770lbs) to 500kg(1100lbs) and SA1000 is 700kg(1540lbs) to 1000kg(2200lbs).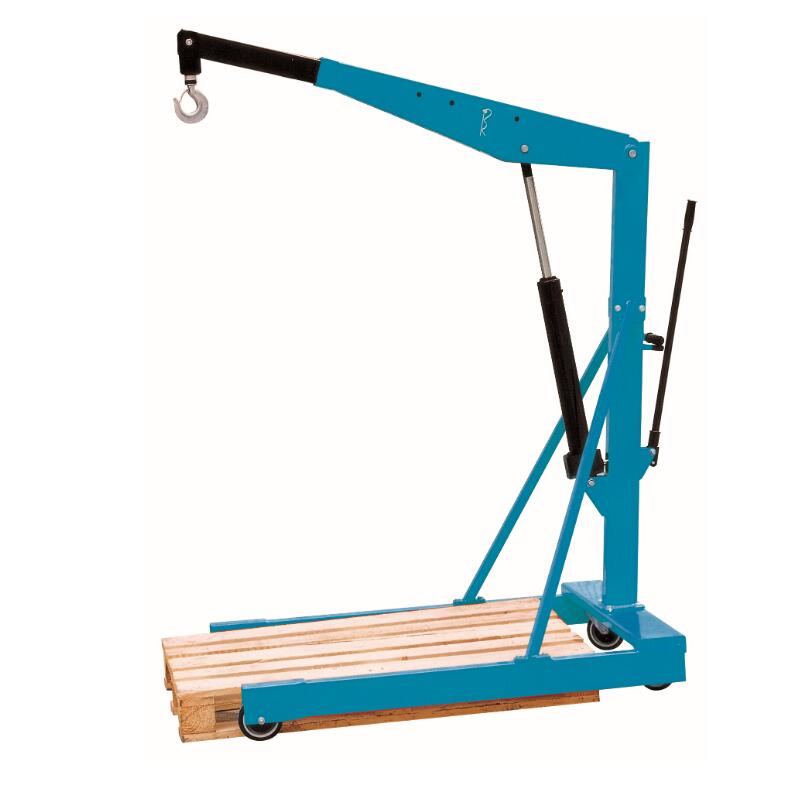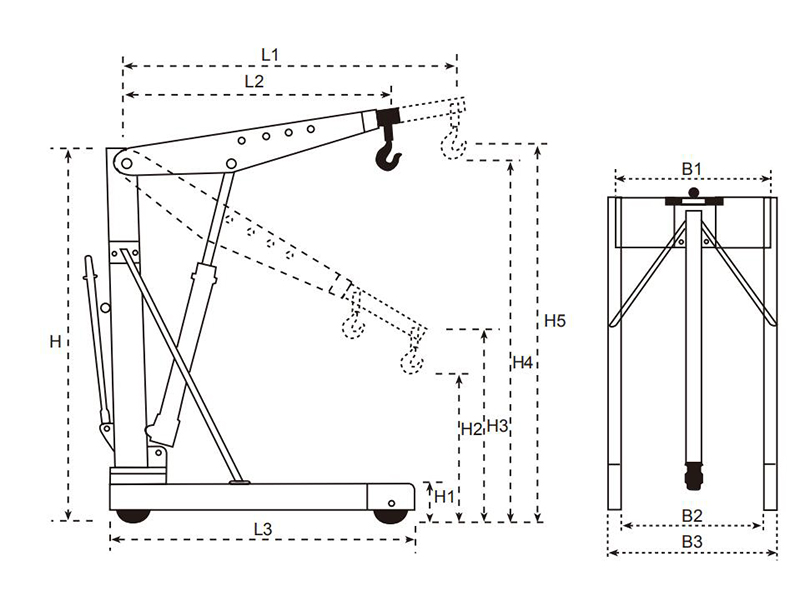 i-Lift No.
2313101
2313102
Model
SA500
SA1000
Capacity
kg(lb.)
500(1100)
1000(2200)
Position 1
500(1100)
1000(2200)
Position 2
450(990)
900(1980)
Position 3
400(880)
800(1780)
Position 4
350(770)
700(1540)
Net Weight
81(178.2)
103(226.6)
L1
mm(in.)
1360(54.9)
L2
1060(49.6)
L3
1395(54.9)
H1
155(6.1)
H2
570(22.4)
H3
750(29.5)
H4
1980(78)
H5
2150(84.6)
H
1595(62.8)
B1
965(38)
B2
840(33.1)
B3
1000(40)
Compact structure with adjustable crane boom
The adjustable crane boom structure design can adjust different length according to the weight of the goods, meet the different requirements, more convenient and durable.
Heavy duty design ,safe and durable
The lifting piston rod is strong and durable, manual hydraulic type lifting cylinder technology, convenient and labor-saving, single person can operate, strong applicability
Thickened Steel
Made of high-quality steel elaborate thickening reinforcing steel, sturdy, strong bearing force and deformation, safe and reliable
Ingenious site structure
Simplified right Angle leg chassis structure. It is suitable for the use of European type pallets. The whole car has been baked in high temperature paint and sprayed with static electricity. The surface is smooth and clean, durable and corrosion resistant
High quality casters
wear-resistant and durable, light driving, long service life.
Types of shop crane :
As a professional crane manufacturer for many years, we have developed various kinds of cranes, such as foldable shop crane,counter-balanced ship crane,electric hydraulic lifting crane etc…
Shop crane manufacturer:
As a professional manufacturer of various types of material handling & lifting products, shop crane is one of our main products. In addition to this, we can also manufacture various kinds of pallet trucks, stackers, lift tables, forklifts, crane, drum handling, forlift attachment, skates, jack, puller, hoist, lifting clamp and so on. If you would like to purchase one type of material handling equipments, you can send us email from this page for quotation now. And if you are interested in our other products, welcome to contact us via e-mail or other ways that listed in the page. We will reply you in 24 hours.