i-Lift mobile workshop crane provides the heavy lifting power you require while also being foldable, allowing you to pack it up and put it out of the way when not in use.
It comes complete with hydraulic ram, chain and hook.Foldable for easy transport and space-saving storage. Heavy duty and long ram. A must-have for lifting engines, machinery and all heavy components. This hydraulic workshop crane Ideal for moving, repair, maintenance and assembly. Folding design is easy to transmission and store.
The crane range is free standing with 3 variable capacity settings (maximum capacity available is 2000 kg) afforded by its 3 position telescopic jib and heavy duty swivel hook with safety catch.
Lift / hook heights range right from floor level to 2490 mm and, when folded, the floor crane is completely mobile on its 4 wheels.
The crane has models SC500C, SC1000C, SC2000C
Features of mobile workshop crane
Heavy duty floor crane
Larger capacity than normal shop cranes at 3 positions, SC500C from 350kg(770lbs) to 500kg (1100lbs), SC1000C from 700kg(1540lbs) to 1000kg(2200lbs) and SC2000C from 1500kg(3300lbs) to 2000kg(4400lbs).
Double acting hand hydraulic pump unit
Heavy duty swivel hook with safety catch
Pressure relief valve to prevent overloading
Foldable design saves a lot of space.
Self standing on 4 wheels when folded
2490 mm maximum lift height (model dependent)
Floor level minimum hook height
Forged heavy duty swivel hook. Often used in the auto repair industry to lift engines.
125% overload testing before delivery.
360º swivel operating handle.
3 variable capacity settings
3 position telescopic jib
Conforms to CE safety standard.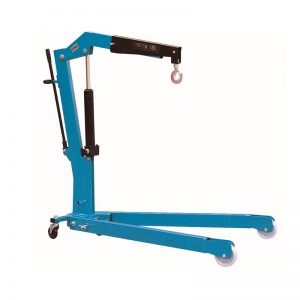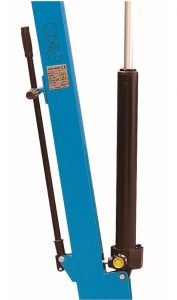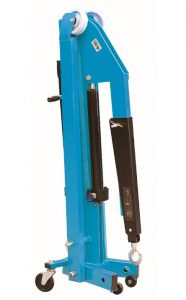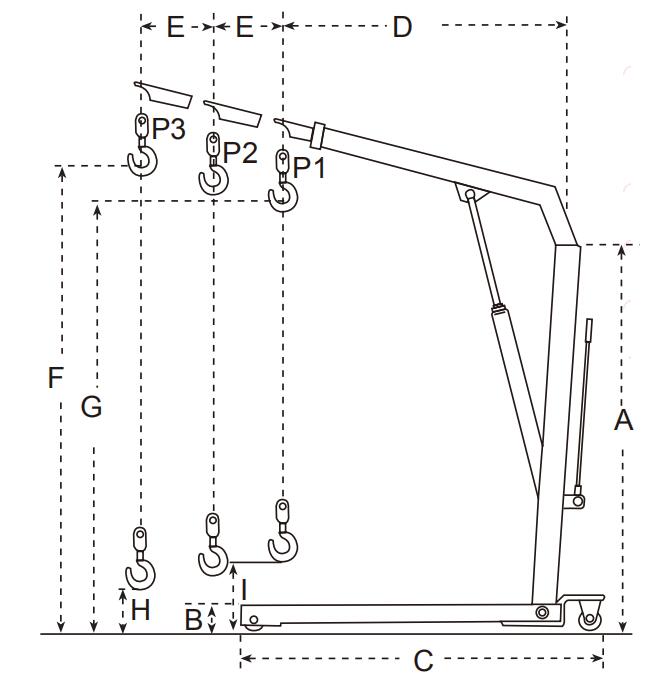 i-Lift No.
2312801
2312802
2312803
Model
SC500C
SC1000C
SC2000C
Capacity at position
 kg(lb.)
P1
500(1100)
1000(2200)
2000(4400)
P2
425(935)
800(1760)
1700(3740)
P3
350(770)
700(1540)
1500(3300)
Dimensions
 mm(in.)
A
1354(53.3)
1597(62.9)
1626(64)
B
165(6.5)
90(3.5)
208(8.2)
C
1582(62.3)
1749(68.9)
1911(75.2)
D
897(35.5)
1231(48.5)
1293(50.9)
E
102(4)
150(6)
F
2080(81.9)
2450(96.5)
2490(98)
G
1920(75.6)
2320(91.3)
2330(91.7)
H
130(5.1)
I
330(13)
280(11)
250(10)
Overall width
 mm(in.)
960(37.8)
1100(44)
1170(46.1)
Net Weight
 kg(lb.)
75(165)
115(253)
165(363)
---