Ideal for moving large and heavy equipment or machinery in manufacturing facilities and warehouses. Manufacturers of construction, mining, and agricultural equipment are just a few of the industries that routinely handle heavy assemblies and equipment.
Large forklifts, overhead cranes, and in-floor track systems are the most common method for moving heavy equipment. They do have their advantages because they can get the load moving but they also have disadvantages with cost, efficiency, and flexibility.
This FM series furniture mover(equipment mover) can be Safely Handled by Just One Operator, it is designed with a Durable Lifting Mechanism.STURDY AND LARGE CAPACITY: Made from high quality aluminum alloy for lighter weight than steel, this FMA50 is sturdy and durable.
FMA50  (500 kg/1100lbs). We have other models:
FM180K-1, FM180K-2 (1800kg/3960lb),
FM200 (2000kg/4400lb),
FM270K-1, FM270K-2 (2700kg/5940lb),
FM360K-1, FM360K-2 (3600kg/7920lb),
FM450K-1, FM450K-2 (4500kg/9900lb).
DETACHABLE DESIGN: Step on shaft to open or fold in seconds, easier storage and transportation. The FM500 is perfect for any application that requires heavy lifting and ideal for use in furniture movement.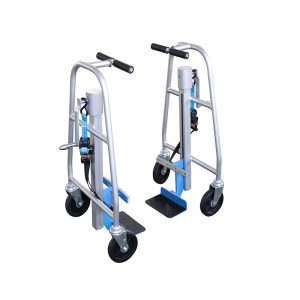 i-lift No.
1912601
Model
FMA50
Capacity
 kg(lb.)
500(1100)
Lifting height
 mm(in.)
320(12.6)
Min. Height
 mm(in.)
0
Lifting Plate
 mm(in.)
225*120(8.9*4.7)
Overall Size
 mm(in.)
510*440*845(20*17.3*33.3)
Net weight
 kg(lb.)
20(44)
Types of equipment mover:
As a professional equipment mover manufacturer for many years, we have developed various kinds of equipment movers, such as furniture mover, dest mover, mechanical jack, pallet mover, etc…
After-sale service:
Each equipment comes with specs instruction
1 Year Limited Warranty
We have been in manufacturing equipment mover for many years. And we have a professional and perfect after-sales service team.
Equipment mover manufacturer:
As a professional manufacturer of various types of material handling & lifting products, equipment mover is one of our main products. In addition to this, we can also manufacture various kinds of pallet trucks, stackers, lift tables, forklifts, crane and so on. If you would like to purchase a type of material handling products, you can send us email from this page for quotation now. And if you are interested in our other products, welcome to contact us via e-mail or other ways that listed in the page. We will reply you in 24 hours.