Shifting skates can be used wherever heavy objects have to be moved. The load can be lifted using either the roller crowbar or a jack, allowing the skates to be easily positioned.
The large diameter sealed nylon rollers ensure ease of movement and spread the load, protecting high quality floors from damage by high point loads and oil/grease contamination.
The skates are maintenance free and are fitted with handles for ease of carrying and positioning. The platforms of the skates are fitted with a rubber surface which helps stability and protect the object being moved.
SC series swivel roller skates are used for equipment moving, they can be controlled to different directions.
The skate model SC102 has 2 castors and 2 fixed rollers.
The skate model SC104 has 4 castors.
                        SC102                                  SC104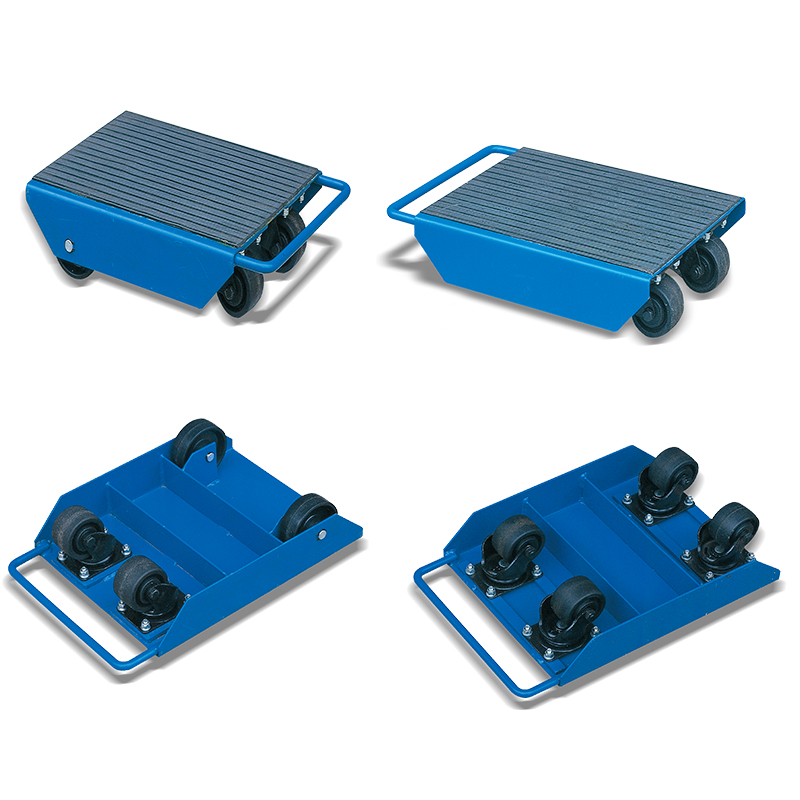 i-lift No.
1910301
1910302
Model
SC102
SC104
Capacity
kg(lb.)
1000(2200)
No. of castor
mm(in.)
2
4
No. of fixed roller
mm(in.)
2
0
Roller size
mm(in.)
Castor 75*46(3*1.8)
Roller 100*35(4*1.4)
Skate weight
kg(lb.)
13(28.6)
14(30.8)
Types of skates:
Skates fixed type, skates with caster, rotating roller machine skates, steerable skates, adjustable skates, complete skate kits, turn table, packing plate, roller skates, etc....
After-sale service:
1 Year Limited Warranty
We have been in manufacturing Skates for many years. And we have a professional and perfect after-sales service team.
Skates manufacturer:
As a professional manufacturer of various types of material handling & lifting products, Skates is one of our main products. In addition to this, we can also manufacture various kinds of pallet trucks, stackers, lift tables, forklifts, crane, drum handling, forlift attachment, jack, puller, hoist, lifting clamp and so on. If you would like to purchase one type of material handling equipments, you can send us email from this page for quotation now. And if you are interested in our other products, welcome to contact us via e-mail or other ways that listed in the page. We will reply you in 24 hours.