HR series hydraulic roll pallet truck is designed for roll transporting (handling roll of paper, carpet,textile or other materials). it is like a hydraulic pallet truck as they have the same working principle: ifting by oil pump and manual moving.
This series hydraulic roll pallet jack has 3 different models HR15A, HR15B, HR18C for rolls with different size.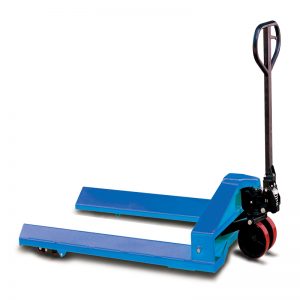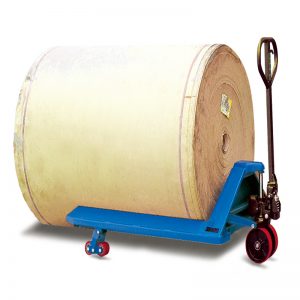 i-Lift No.
1111201
1111202
1111203
Model
HR15A
HR15B
HR18C
Capacity
 kg(lb.)
1500(3300)
1500(3300)
1800(3960)
Min. roll diameter
 mm(in.)
500(20)
700(27.6)
800(31.5)
Max. roll diameter
 mm(in.)
800(31.5)
1300(51.2)
1400(55.1)
Max. roll length
 mm(in.)
1500(60)
Fork Overall Width
 mm(in.)
860(33.9)
990(39)
1030(40.6)
Fork Length
 mm(in.)
1350(53.1)
Rear wheel
 mm(in.)
200(8)
Net Weight
 kg(lb.)
130(286)
140(308)
155(341)
---
Types of pallet truck
As a pallet truck manufacture(pallet jack manufacture), i-Lift also have electric pallet truck, high lift scissor pallet truck, rough terrian pallet truck, hand pallet truck(hydraulic pallet truck), low profile pallet truck, stainless pallet truck, galvanized pallet truck, roll pallet truck, pallet truck with scale, skid lifter pallet truck, weighing pallet truck and so on.
After-sale service:
Each equipment comes with specs instruction
1 Year Limited Warranty
We have been in manufacturing pallet jack for many years. And we have a professional and perfect after-sales service team.
Roll pallet jack manufacturer:
As a professional manufacturer of various types of material handling & lifting products, roll pallet jack is one of our main products. In addition to this, we can also manufacture various kinds of pallet trucks, stackers, lift tables, forklifts, crane and so on. If you would like to purchase a type of hydraulic roll pallet truck, you can send us email from this page for quotation now. And if you are interested in our other products, welcome to contact us via e-mail or other ways that listed in the page. We will reply you in 24 hours.