HJ365 hydraulic drum truck is easily operated by one person.  This hydraulic drum handling truck only for carrying and moving, not for drum tilting.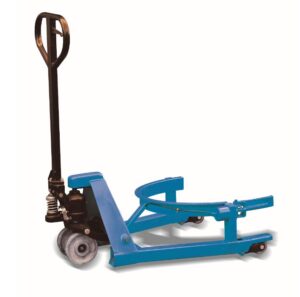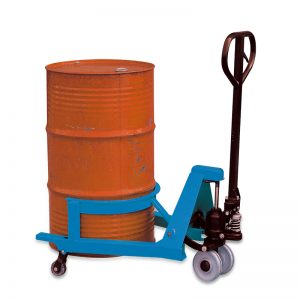 i-Lift No.
1711501
Model
HJ365
Capacity
(kg/Ibs)
365/800
Acceptable Drum Style
55gallon,Steel
Max.Height of Arm
mm(in.)
390(15.4)
Min.Height of Arm
mm(in.)
270(10.6)
Radius of Arm
mm(in.)
290(11.4)
Oversize(LxW)
mm(in.)
1022*722(10.2*28.4)
Net Weight
(kg/Ibs)
53/116.6
High quality oil cylinder, safe and durable
The use of integral sealed cylinder, manual hydraulic lifting, so that the lifting of goods smooth and effective to avoid oil leakage, can improve the safety of the drum truck
Simple and easy to move
The oil drum truck is a kind of pollution-free truck specially produced for the drum-type packing and handling, and the operation is simple
Hoop design, hydraulic clamp bucket
Arc shaped bucket holder design, hydraulic holding box type automatic holding oil bucket, easy to operate, single person can operate, durable and not easy to deformation, safe and reliable.
Comfortable Grip:Ergonomic design, heavy goods falling speed controllable, improve the safety of operation
Strong hydraulic spring: Reinforced spring is adopted, with proper elasticity, enhanced hardness and quick and reliable rebound of handle
Nylon Caster: High quality nylon casters are adopted, with strong bearing capacity, flexible movement and long service life
Types of drum handling:
As a professional drum handling  manufacturer for many years, we have developed various kinds of drum truck, such as hydraulic drum truck ,drum stacker,hydraulic drum truck ,drum lollies,low profile drum caddy, hydraulic drum truck,drum cradles etc…
Drum handling manufacturer:
As a professional manufacturer of various types of material handling & lifting products, drum handing is one of our main products. In addition to this, we can also manufacture various kinds of pallet trucks, stackers, lift tables, forklifts, crane, drum handling, forlift attachment, skates, jack, puller, hoist, lifting clamp and so on. If you would like to purchase one type of material handling equipments, you can send us email from this page for quotation now. And if you are interested in our other products, welcome to contact us via e-mail or other ways that listed in the page. We will reply you in 24 hours.