HH1216 power stacker is designed for stacking pallets on racks and loads transporting. It is very convenient, smooth,effiency, especially suitable for operating at narrow aisles, upstairs, elevators.As its low noise, little pollution, it is particularly suitable for food, medicine, textile and warehouse and so on.
An electromagnetic disc brake with automatic dead-man feature activates when the user releases the handle. Ergonomic handle controls speed and lift with left or right hand, and offers auto-reverse safety belly button switch. Self-Propelled Powered Lift Truck is Easy to Use and Maintain.
This HH1216 is the most economic battery stacker with 1200kg(2640lbs) capacity, and 1600mm(63inch.) lifting height.
This HH1216 is used for standard pallets, electric stacker with straddle leg is optional if you need stackers to be used for special environments(special pallets).
Model
HH1216
Power type
Battery powered
Driving style
Pedestrian
Load capacity                  Q
lbs
2640
Load center                      C
in
23.6
Overall length                 L1
in
71.5
Overall width                   W
in
31.5
Min. overall height         H1
in
83
Fork dimension  L×b×m
in
45.3×6.3×2.2
Outside width of forks     D
in
21.3
Ground clearance             x
in
1.14
Base distance                 L0
in
49
Wheel material
PU
Driving wheel size
in
φ9.8×3.1
Front wheel size
in
φ3×2.75
Balance wheel size
in
φ4.9×2.95
Min. steering radius               Wa
in
57.5
Min. width of aisle
in
≥84.6
Max. lift height                       H
in
63
Max. overall height                H2
in
83
Min. fork height                     H3
in
3.5
Travel speed(laden/unladen)
Km/h
3.5/4.0
Lift speed(laden/unladen)
in/s
5.3/9.05
Lowering speed(laden/unladen)
in/s
7.1/4.33
Brake type
Electromagnetic
Power of driving motor
Kw
0.7
Power of lift motor
Kw
2.2
Battery capacity/voltage
Ah/V
95/24
Weight of battery
lbs
110
Net weight
lbs
1199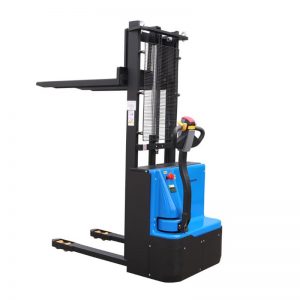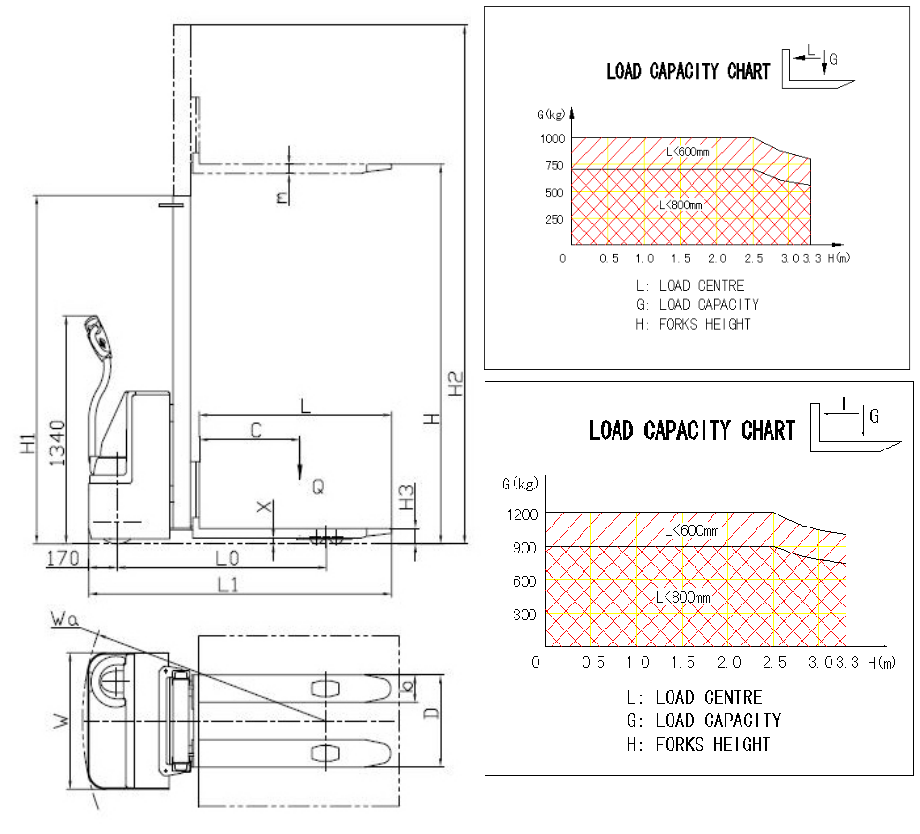 1. Thickened C-shaped steel  frame: strong and stable, light and easy to load, convenient and labor-saving, more durable.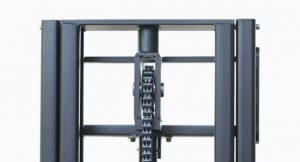 2. Ergonomic handle, comfortable and easy to operate.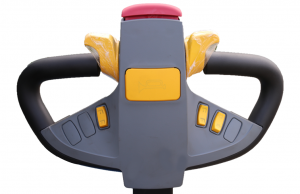 3. Deep discharge protection device: the electricity meter comes with battery protection function to ensure a longer service life of the battery.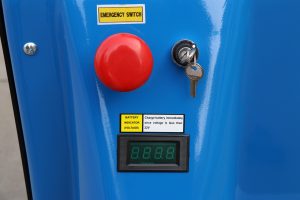 4. Easy to move: fixed fork double roller design, flexible and light moving, smooth and smooth driving, greater bearing capacity, and less noise.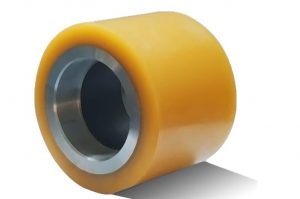 6. High-quality heavy-duty load-bearing chain, durable and not deformed. Protective net design, the vision is more wider and more safer.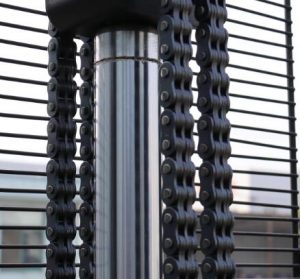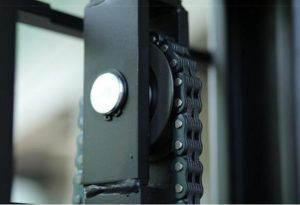 7. The fork is made of thickened steel, seamlessly welded, one-time forming, no deformation, no cracking, and stronger bearing. Straddle leg is optional .