Plastic container dolly is specially designed to fit the bakery tray stack and nest containers, and allows you to stack several containers on top of each other, mainly used in food industry, such as supermarket, sea-food market, shop, canteen, retail, offices, factories and many other premises would benefit with the help of a plastic dolly.
This dolly for plastic dolly is made of plastic. So it is lightweight and easy to move with the four polyolefin swivel casters. Moreover, we have a handle for your option. There is a raised rim around the deck of the plastic dolly to prevent containers or boxes from falling off. The dollies incorporate a carry handle and tow hook for easy carrying and towing with control around any commercial premises. Mounted on 2 fixed and 2 swivel castors (4 swivel castors ) to make mobility hassle-free; an essential addition to any fast-paced work environment. In addition, it has a generous load capacity of 250 kg, and a compact structure, which makes it easily transport and store neatly when not in use.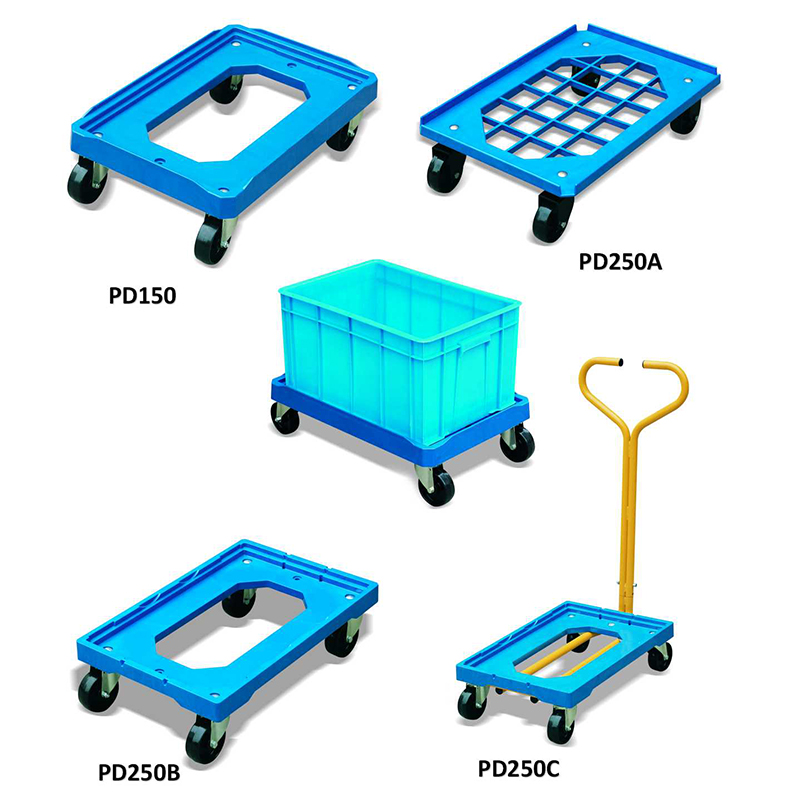 Model

PD150

PD250A

PD250B

PD250C

Capacity  kg(lb.)

150(330)

250(550)

250(550)

250(550)

Suit for container size   mm(in.)

605*405/575*307/545*305 (23.8*15.9/22.6*12/21.4*12)

601*410(23.6*16)

570*370/545*355

(21.4*15.5 /21.4*13.9)

570*370/545*355

(21.4*15.5/21.4*13.9)

Overall size  mm(in.)

615*415*180 (24.4*16.5*7.1)

602*425*165(24*16.5*16.5)

605*403*170 (24*15.8*6.7)

605*403*170 (24*15.8*6.7)

No. of swivel castor

4

2

4

4

No. of fixed castor

0

2

0

0

Net weight kg(lb.)

3.8(8.4)

2.8(6.2)

3.8(8.4)

9(19.8)
The features of Plastic Dolly:
---
♦ strong ABS construction.
♦ lightweight, rugged structure
♦ stack several containers on the top of the first container
♦ corrosion resistance, easy to clean
♦ 360 degree wheels
Attention and Warning:
---
Before using platform cart, it should be inspected. If it is loose or damaged, it should be repaired in time;
When transporting goods, do not overload them;
When going uphill, don't suddenly accelerate to rely on inertia uphill; when downhill, don't go too fast; don't make sharp turns on the flat road;
When going up and down, keep your feet away from the wheel and the cart body to prevent bumps;
When multiple people are transporting goods, pay attention to each other;
Do not stand on the hand truck to slide and play;
Place it in the appropriate designated location after use.