i-Lift folding platform cart  is well constructed of durable aluminum to provide stable performance and long-time use.Corrosion-resistant feature allows it to be used in all types of weather and environments without rusting or eroding away.  An ergonomic handle,non-slip platform and quality TPR rubber wheels make it a great product but at affordable price, try this must-have piece to help you get your jobs done easier and less stressful.
Our folding truck is built for holding up to 770lbs of cargo and enabling smooth movement,which is a perfect addition for those who often move heavy or bulky items around basement, garage, warehouse,shop, office,restaurants,hospitals etc.Whether you are moving potted plants,carrying groceries,hauling things to expositions or shows,delivering big packages,this push platform truck can save your back and get the job done quickly and efficiently.
Foldable desgin made this folding hand truck easy for storage, when it's not in use,it can be easily stored in a closet, behind doors or in a vehicle.Just step on the bar and fold down the padded handle in seconds.
Four heavy duty caster wheels provide smooth and reliable movement but with less noise than any other common carts. 2 fixed casters and 2 360° swivel casters makes easy maneuverability.  Aluminum platform truck is a light weight aluminum deck. It is solidly made of lightweight corrosion resistant aluminum for long lasting strength, durability and dependability. Slip-resistant Diamond Tread Deck surface design helps to prevent items from falling during transport. Non-marring integral corner bumpers protect walls.
The platform truck has model NP150, NP250, NP300, NP350
Very little assembly required,just install the wheels and this push cart trolley is ready to go!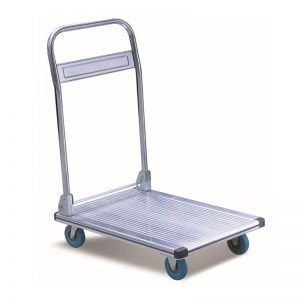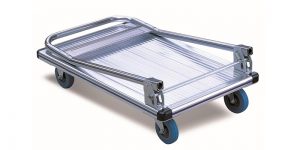 i-lift No.
1012601
1012602
1012603
1012604
Model
NP150
NP250
NP300
NP350
Capacity
 kg(lb.)
150(330)
250(550)
300(660)
350(770)
Platform size
 mm
750*470
900*610
1200*610
1520*750
(in.)
(29.5*18.5)
(35.4*24)
(47.2*24)
(59.8*29.5)
Caster wheel
 mm(in.)
φ100(4)
φ127(5)
φ127(5)
φ127(5)
Overall size
 mm
750*470*900
900*610*950
1200*610*950
1520*750*950
(in.)
(29.5*18.5*35.4)
(35.4*24*37.4)
(47.2*24*37.4)
(59.8*29.5*37.4)
Net weight
 kg(lb.)
9(19.8)
14.2(36.1)
15.5(39.4)
25(63.5)
---
The Features of Aluminum Platform truck:
Light weight aluminum deck
Wrap around corner bumper.
Wheels: rubber or plastic.
Attention and Warning:
Before using platform cart, it should be inspected. If it is loose or damaged, it should be repaired in time;
When transporting goods, do not overload them;
When going uphill, don't suddenly accelerate to rely on inertia uphill; when downhill, don't go too fast; don't make sharp turns on the flat road;
When going up and down, keep your feet away from the wheel and the cart body to prevent bumps;
When multiple people are transporting goods, pay attention to each other;
Do not stand on the hand truck to slide and play;
Place it in the appropriate designated location after use.