CZ series platform truck with mesh basket for visual identification on the move, platform trucks with steel mesh panels. Panels individally removeable. Load visible from all directions.  Chassis manufactured from iron angle. Side panels made from mesh steel.
This great value mesh basket platform truck is a heavy duty trolley, Consisting of 1 to 4 half height removable mesh panels that allow the trolley to be configured to load, or to be used as an open ended platform truck. Different combinations of multi-function flatbed trucks can be used for different work needs,This ensures your load is completely secure and can be transported safely. Ideal for use in a wide variety of working environments.
2 Swivel castors with brakes and 2 fixed wheels, rubber tries, dia 200mm roller bearings. Delivered flat packed for easy bolt-on assembly.
The platform truck has models CZ50A, CA50B, CZ50C, CA50D, CZ50E, CA50F, CZ50G, CA50H, CZ50K, CA50L, CZ50M, CA50N,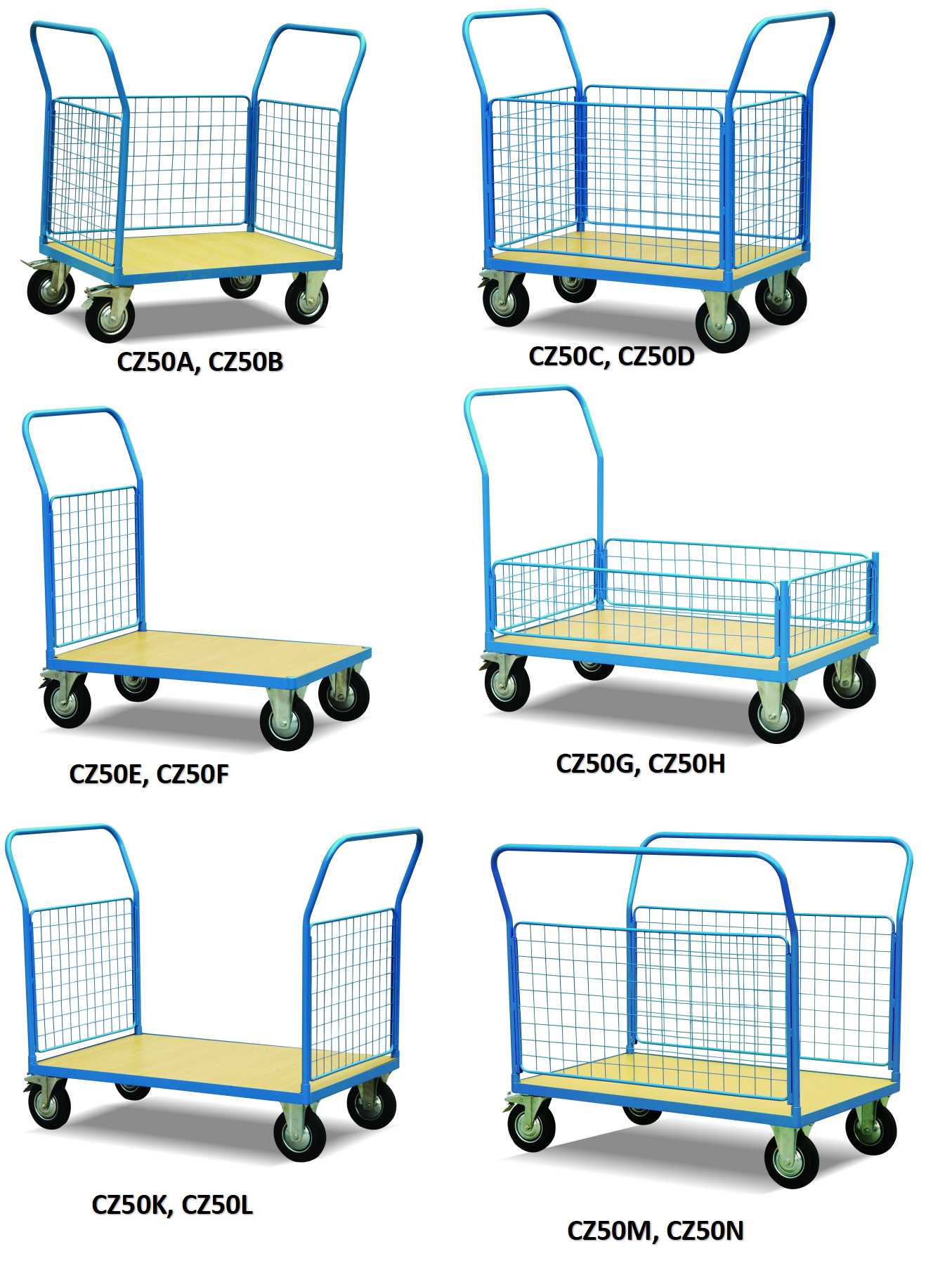 i-Lift No.
1013501
1013502
1013503
1013504
1013505
1013506
Model
CZ50A
CZ50B
CZ50C
CZ50D
CZ50E
CZ50F
Max. Capacity
 kg(lb.)
500(1100)
Platform Size  L*W
 mm(in.)
1000*700(40*27.6)
1200*800(47*31.5)
1000*700(40*27.6)
1200*800(47*31.5)
1000*700(40*27.6)
1200*800(47*31.5)
Platform height
 mm(in.)
270(10.6)
Castor/Wheel
 mm(in.)
200*45(8*1.8)
Overall size (L*W*H)
 mm(in.)
1200*700*1170
1400*800*1170
1200*700*1170
1400*800*1170
1100*700*1170
1300*800*1170
(47.2*27.6*46.1)
(55*31.5*46.1)
(47.2*27.6*46.1)
(55*31.5*46.1)
(44*27.6*46.1)
(51.2*31.5*46.1)
Net Weight
 kg(lb.)
44(96.8)
49(107.8)
45(99)
50(110)
35(77)
38(83.6)
---
i-Lift No.
1013507
1013508
1013509
1013510
1013511
1013512
Model
CZ50G
CZ50H
CZ50K
CZ50L
CZ50M
CZ50N
Max. Capacity
 kg(lb.)
500(1100)
Platform Size  L*W
 mm(in.)
1000*700(40*27.6)
1200*800(47*31.5)
1000*700(40*27.6)
1200*800(47*31.5)
1000*700(40*27.6)
1200*800(47*31.5)
Platform height
 mm(in.)
270(10.6)
Castor/Wheel
 mm(in.)
200*45(8*1.8)
Overall size (L*W*H)
 mm(in.)
1100*700*1170
1300*800*1170
1200*700*1170
1400*800*1170
1000*930*1170
1200*1030*1170
(44*27.6*46.1)
(51.2*31.5*46.1)
(47.2*27.6*46.1)
(55*31.5*46.1)
(40*36.6*46.1)
(47*40.6*46.1)
Net Weight
 kg(lb.)
40(88)
43(94.6)
41(90.2)
44(96.8)
43(94.6)
46(101.2)
---
Key Features:
Heavy duty platform truck (1000 x 700mm &1200 x 800mm platform)
Made of durable welded tubular steel
Sturdy beech-effect timber platform
Mesh walls on one side with one handle, four sides with one handle, two sides with two handles, three sides with two handles, four sides with two handles.
Two fixed and two swivel castors with brakes and rubber tyres
Maximum load: 500kg