The Features of plastic utility platform cart:
Latest design for industrial applications.
Heavy duty plastic construction resists dents,chips and rust.
Virtually Maintenance-free
Bulit-in storage bin in handle,perfect way to store small parts.
Sturdy and stable yet lightweight,makes for easy maneuverability.
Round corners mean to sharp edges to nick wall or furniture
Large,silent,non-marking 5" casters.
The plastic platform truck has model: UD252, UB252, UD253, UB253 for your choice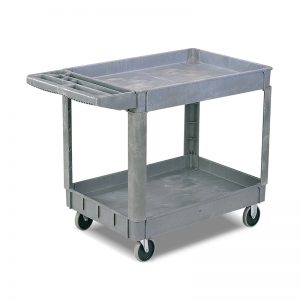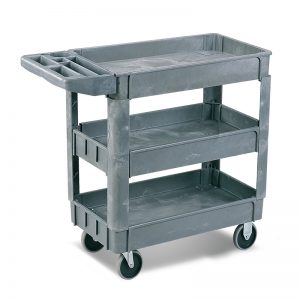 Specification
Key Features
Attention and Warning
i-lift No.
1012201
1012202
1012203
1012204
Model
UD252
UB252
UD253
UB253
Type
Two shelves
Three shelves
Max. capacity
 kg(lb.)
250(550)
No. of handle
1
Platform Size
 mm(in.)
      790 x435 x110      (31x17x4.4)
 950x650x110    (37x25.6x4.3)
790x435x110 (31x17x4.4)
950x650x110  (37x25.6x4.3)
Upper platform height
 mm(in.)
850(33.5)
Height between two floors
 mm(in.)
500(20)
Lower platform height
 mm(in.)
150(6)
Caster wheel
 mm(in.)
125 x26(5 x1)
Gross weight
 kg(lb.)
18(39.6)
22(48.4)
23(50.6)
30(66)
Net weight
 kg(lb.)
16(35.2)
20.5(45)
20.5(45)
27.5(60.5)
Key Features
Spacious Storage Space: This tool cart has a very  practical multi-functional handle storage, you can put small tools on  it, as well as with water bottle lattice, towel rack, hook so that your  tools are orderly placed. At the same time, the shelves capacity are  also very large, easily meet your needs.
Convenient to Move and Control: There are four  durable wheels at the bottom of the tool cart, two of which are 360  degree universal wheels and two directional wheels. It's convenient for  you to control the direction of the cart, and it can also stop steadily.  And ergonomic handle helps you control the cart better and save energy.
High Quality & Large Weight Capacity: Wheels'  material is TPR material, which has good anti-skid and shock absorption  performance. Body material is made of durable and wear-resistant PP  material. Because of the high quality material, it's bearing capacity is  up to 550 lbs.
Wide Range of Applications: This cart can be used  in various places. You can use it as a transport vehicle in the factory  to transport goods. You can use it as a cleaning cart, because it can  accommodate a variety of cleaning equipment. It also can be a garden  cart, etc.
Easy to Assemble and Clean: The structure of this  cart is simple and clear and the installation steps are simple, which  reduces the trouble of your installation. At the same time, the body  surface is smooth which is easy to clean it up and saving you the time  to take care of it.
Our two- level shelf utility rolling cart is very easy to operate and can improve your work efficiency.    This two- level shelf utility rolling cart has a distinctive design. It has a ergonomic handle  includes a variety of small compartments along with a cup-holder to place some small tools and commonly used tools. The shelf part of the cart has a very large capacity, which can easily accommodate the goods and meet your daily work needs. The cart has four durable wheels, two of which are universal wheels and two are directional wheels. This design makes the cart easy to move and stop.    Give yourself a chance to free your hands! Don't hesitate to buy it!     A multi-functional handle is designed to store the goods conveniently and orderly The cart is equipped with a hook to hang your bag and a towel rack to hang your towel The cart has a large capacity and each shelf area is of 36 inches× 24.5 inches Four durable wheels, two universal wheels and two directional wheels The wheel material is wear-resisting TPR and the body material is durable PP Widely used in office, warehouse, garden and hotel, etc Simple structure, less installation steps, farewell to installation troubles There are holes in the support foot that can be used to hold hooks (hooks are not included) Smooth surface, not easy to garbage residue, at the same time, it is very easy to clean.
Attention and Warning:
---
Before using platform cart, it should be inspected. If it is loose or damaged, it should be repaired in time;
When transporting goods, do not overload them;
When going uphill, don't suddenly accelerate to rely on inertia uphill; when downhill, don't go too fast; don't make sharp turns on the flat road;
When going up and down, keep your feet away from the wheel and the cart body to prevent bumps;
When multiple people are transporting goods, pay attention to each other;
Do not stand on the hand truck to slide and play;
Place it in the appropriate designated location after use.