▲ Structural foam plastic platform won't rust, chip or dent.
▲ Honeycomb reinforced underside for added strength and durability.
▲ Special non-marking silence casters with built-in bearing, fit for using in silent surroundings.
▲ Non-skid surface helps prevent load shifting.
The foldable truck has model PT1501A, PT1501B, PT1501C, PT1501D, PT3001A, PT3001B, PT3001C, PT3001D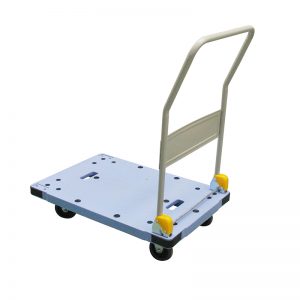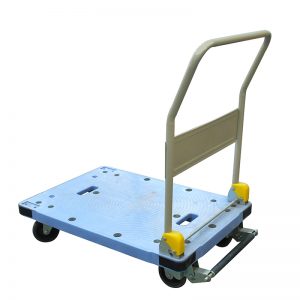 i-Lift No.
1017101
1017102
1017103
1017104
1017201
1017202
1017203
1017204
Model
PT1501A
PT1501B
PT1501C
PT1501D
PT3001A
PT3001B
PT3001C
PT3001D
Capacity
 kg(lb.)
150(330)
300(660)
Platform Size
 mm(in.)
710*460*40(28*18.1*1.6)
900*600*50(35.4*23.6*2)
Handle Type
Foldable
Handle height
 mm(in.)
900(35.4)
930(36.6)
Wheel
 mm(in.)
100*32(4*1.3)
125*32(5*1.3)
Silent castors
Normal castors
Silent castors
Normal castors
Brake
Y
N
Y
N
Y
N
Y
N
Net Weight
 kg(lb.)
11.7(25.7)
10.1(22.2)
12(26.4)
10.4(22.8)
16.9(37.2)
14.6(32.1)
17.5(38.5)
15.2(33.4)
Types of platform truck:
As a professional stacker manufacturer for many years, we have developed various kinds of stackers, such as Telescoping & Folding Platform Truck, plastic dollies, zinc-plated dollies, platform truck, table trolley, platform trolley, drum truck, steel platform truck, 3-Drawer Work Center, stainless platform trolley, triple plastic trolley, aluminum platform truck, aluminum hand truck, universal shelf trolleys, order picking cart, table trolley, storage trolley, wagon truck, trigonal-frame platform cart, professional hand truck, folding truck, transport trolley, convertible hand truck, etc…
After-sale service:
Each equipment comes with specs instruction
1 Year Limited Warranty
We have been in manufacturing platform truck for many years. And we have a professional and perfect after-sales service team.
Stacker manufacturer:
As a professional manufacturer of various types of material handling & lifting products, platform truck is one of our main products. In addition to this, we can also manufacture various kinds of pallet trucks, stackers, lift tables, forklifts, crane and so on. If you would like to purchase a type of material handling equipments, you can send us email from this page for quotation now. And if you are interested in our other products, welcome to contact us via e-mail or other ways that listed in the page. We will reply you in 24 hours.