This series table trollys with lots of different configurations to choose from; these Heavy Duty Table Trolleys are perfect for use within industrial or commercial environments. Typical applications would likely include a warehouse, factory, store or workshop.  In order to carry out daily routine exercises, our heavy duty table trolley helps to prevent potential injuries to your team and also to ensure damage to goods is minimised.
The maximum load capacity is from 250-350kg per table trolley.  Each trolley consists of 4 wheels; two of these are fixed, whilst the other two are on swivel castors making it much easier to navigate awkward premises. Whether you are transporting heavy, loose loads or simply using the picking trolley for pick and pack applications, the heavy duty hand trolley is essential to carrying out tasks safely and efficiently.
The trolley hasThe industrial table truck provides an efficient solution to transporting and working with large loads. The special, heavy weight tray trolley is welded steel construction throughout. The shelf trolley is mobile on solid rubber wheels with roller bearing allow for smooth, effortless movement. a welded construction throughout which is one of the many reasons why it is so hard-wearing and durable.  Depending on your needs as a workplace; you can choose between opting for a timber deck(s) or steel.
If you are looking for a robust, easy to assemble heavy duty trolley that offers complete versatility, then our industrial hand trolley is an excellent addition to any workforce.
The trolley has model CX30A, CX30B, CX30C, CX30D, CX25, CX35A, CX35B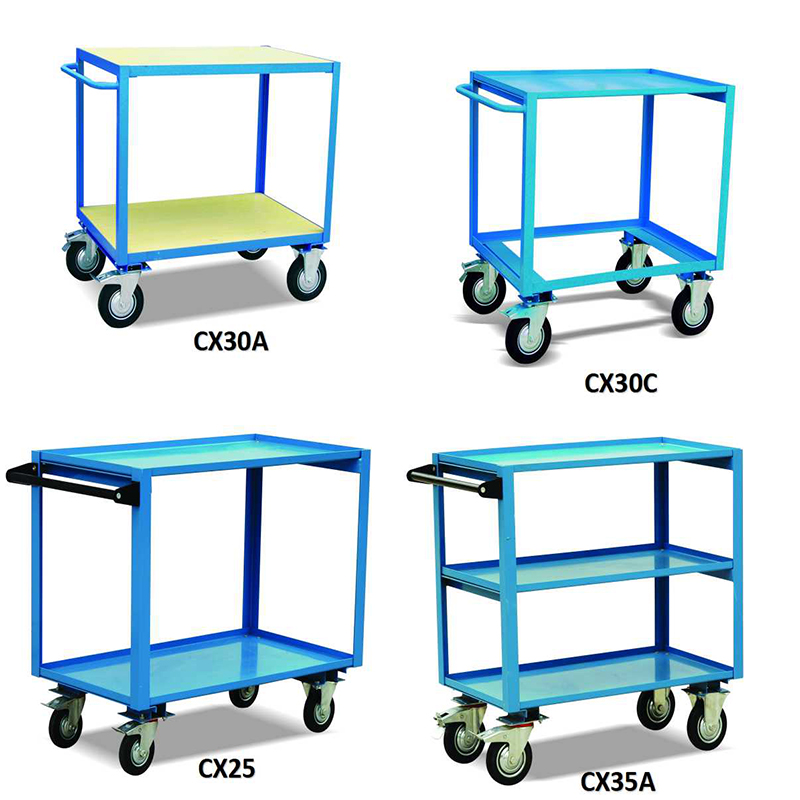 i-Lift No.
1013201
1013202
1013203
1013204
1013205
1013206
1013207
Model
CX30A
CX30B
CX30C
CX30D
CX25
CX35A
CX35B
Max. Capacity
 kg(lb.)
300(660)
250(550)
350(700)
Shelf size
 mm(in.)
1000*700(40*27.6)
1200*800(47*31.5)
1000*700(40*27.6)
1200*800(47*31.5)
900*500(35.4*20)
Lower shelf height
 mm(in.)
320(12.6)
280(11)
260(10.2)
Top shelf height
 mm(in.)
960(37.8)
850(33.5)
920(36.2)
1110(44)
Height between base&2nd shelf
 mm(in.)
----
300(11.8)
400(15.7)
Height between 2nd&top shelf
 mm(in.)
----
320(12.5)
400(15.7)
Castor/Wheel
 mm(in.)
200*45(8*1.8)
125*34(5*1.3)
160*39(6*1.5)
Overall size
 mm(in.)
1100*700*980
1300*800*980
1100*700*980
1300*800*980
1000*500*870
1000*500*940
1000*500*1130
(44*27.6*38.6)
(51*31.5*38.6)
(44*27.6*38.6)
(51*31.5*38.6)
(40*20*34.3)
(40*20*37)
(40*20*44.5)
Net Weight
 kg(lb.)
62(136.4)
72(158.4)
55(121)
60(132)
44(96.8)
58(127.6)
62(136.4)
---