i-Lift aluminum convertible hand truck is mainly made up of aluminum tube, aluminum blades, safety handles and pneumatic tyres. This handy welded construction makes it easy and durable to use. Curved top bar is used for safe transport. GL200A has a fixed or foldable aluminum-magnesium nose.Frame construction are made of heavy duty extruded aluminum. Swivel casters are thermoplastic rubber with thread guards. GL200A and GL200B aluminium tube with aluminium blades, handy welded construction. safety handle and curved top bar for safe delivery.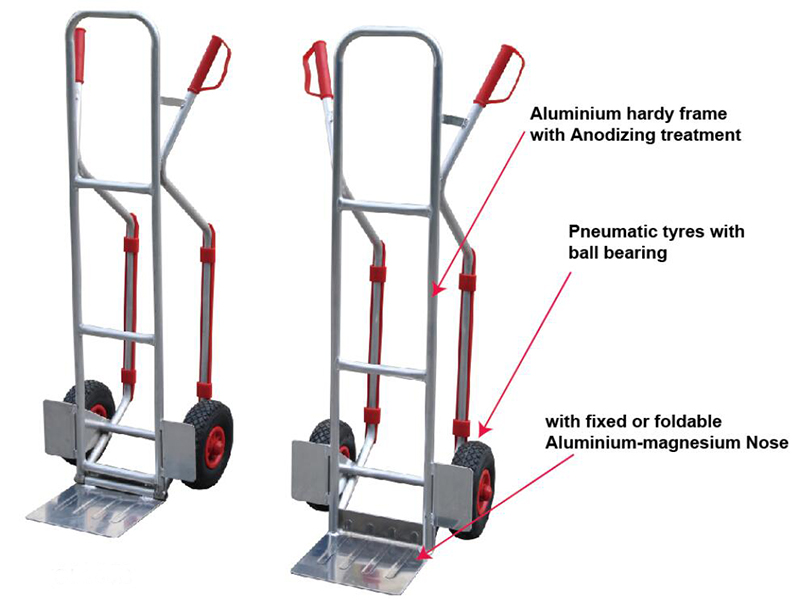 | | | |
| --- | --- | --- |
| Model | GL200A | GL200B |
| Capacity                 kg(lb.) | 200(440) | 200(440) |
| Type | Fixed | foldable |
| Nose plate           mm(in.) | 280*260(11*10.2) | 280*260(11*10.2) |
| Overall height     mm(in.) | 1300(51.2) | 1300(51.2) |
| Overall width       mm(in.) | 500(20) | 500(20) |
| Wheel               mm(in.) | 250(10) | 250(10) |
| Net weight         kg(lb.) | 9(19.8) | 8(17.6) |
The Features of Aluminum Trucks:
Aluminum tube with aluminum blades, handy welded construction.
Safety handles.
Aluminum nose plate.
Curved top bar for safe transport.
Strong, durable, yet lightweight construction
Corrosion-resistant aluminum never rusts
Modular design allows for ease in replacing parts
Aluminum construction makes transporting work easy
Aluminum convertible hand truck truck is used to transport cargoes wherever they are needed
Pneumatic tires transports smoothly & evenly over rough or uneven floors
Magliner products carry a 12-month warranty
Attention and Warning:
Before using platform cart, it should be inspected. If it is loose or damaged, it should be repaired in time;
When transporting goods, do not overload them;
When going uphill, don't suddenly accelerate to rely on inertia uphill; when downhill, don't go too fast; don't make sharp turns on the flat road;
When going up and down, keep your feet away from the wheel and the cart body to prevent bumps;
When multiple people are transporting goods, pay attention to each other;
Do not stand on the hand truck to slide and play;
Place it in the appropriate designated location after use.