Safety at Heights
Mezzanine pallet gate: when transferring pallets to and from a mezzanine level, these roll-over gates will ensure that your workers are in no danger of falling over the side.
Mezzanine loading gates allow pallets to be moved safely between mezzanine floors and ground-level. While the gate is open to forklifts for depositing or removing pallets, the gate is rotated so that pedestrians on the mezzanine can't get near the pallet. Then while the gate is open to the mezzanine for workers to load or unload pallets, the gate is rotated to block the exposed edge of the mezzanine, stopping workers from falling off.
We have models MG1000, MG2000, MG2800 with the different sizes for optional.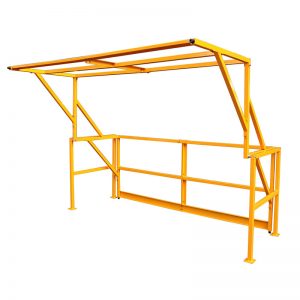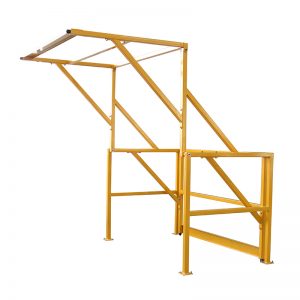 Feature:
Swing gate allows easy and safe access to mezzanines using manual swing-action gates on each end.
Gates swing up and down to provide a usable area of 58 W x 70 D x 76 H
Swing gates are balanced for ease of operation without use of springs.
Mezzanine safety gate is made of heavy duty welded steel.
Mezzanine gate features 42 H handrail, 21 H mid-rail and 4 H kick plate for operator safety.
Space saver detachable compact design.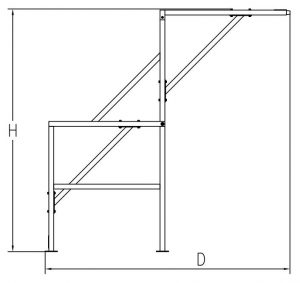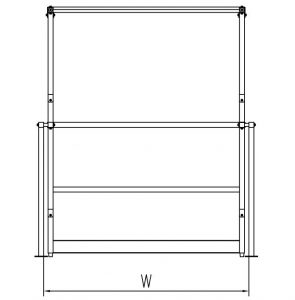 i-Lift No.
1616101
1616102
1616103
Model
MG1000
MG2000
MG2800
Inside Width            W mm(in.)
1632(64.3)
2000(78.7)
2800(110)
Overall Depth          D mm(in.)
1915(73.4)
Overall Height         H mm(in.)
2032(80)
Assembly
Unassembled
Net Weight              kg(lb.)
75(165)
80(176)
95.5(210)
Video Show:
After-sale service:
Each equipment comes with specs instruction
1 Year Limited Warranty
We have been in manufacturing Mezzanine Safety Gate for many years. And we have a professional and perfect after-sales service team.
Mezzanine Gate manufacturer:
As a professional manufacturer of various types of material handling & lifting products, Mezzanine Gate is one of our main products. In addition to this, we can also manufacture various kinds of pallet trucks, stackers, lift tables, forklifts, crane, drum handling, forlift attachment, skates, jack, puller, hoist, lifting clamp and so on. If you would like to purchase one type of material handling equipments, you can send us email from this page for quotation now. And if you are interested in our other products, welcome to contact us via e-mail or other ways that listed in the page. We will reply you in 24 hours.