EX series is the simple but effective way of lengthing your forklift forks to handle longer loads safety, without any damage to the load.The loop-style back keeps the fork firmly attached. Installation requires no tools and can be completed in seconds. It is the most quick and simple way to lengthen your forks. Steel retaining strap to keep extensions in place.
The forklift fork extensions has models EX484, EX604, EX724, EX844, EX964, EX485, EX605, EX725, EX824, EX825, EX845, EX965, EX486, EX606, EX726, EX846, EX966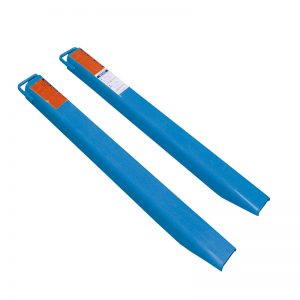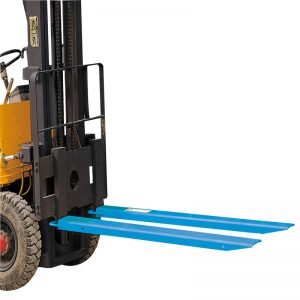 i-lift No.
1810601
1810602
1810603
1810604
1810605
1810606
1810607
1810608
1810609
Model
EX484
EX604
EX724
EX844
EX964
EX485
EX605
EX725
EX824
Length of extension
 mm(in.)
1219(48)
1500(60)
1830(72)
2134(84)
2435(96)
1219(48)
1500(60)
1830(72)
2085(82)
Fit fork width
 mm(in.)
100(4)
125(5)
100(4)
Net weight
 kg(lb.)
35(77)
44(96.8)
53(116.6)
62(136.4)
70(154)
39(85.8)
49(107.8)
59(129.8)
60(132)
---
i-lift No.
1810610
1810611
1810612
1810613
1810614
1810615
1810616
1810617
Model
EX825
EX845
EX965
EX486
EX606
EX726
EX846
EX966
Length of extension
 mm(in.)
2085(82)
2134(84)
2435(96)
1219(48)
1500(60)
1830(72)
2134(84)
2435(96)
Fit fork width
 mm(in.)
125(5)
150(6)
Net weight
 kg(lb.)
67(147.4)
69(151.8)
79(173.8)
43(94.6)
53(116.6)
64(140.8)
75(165)
85(187)
---
---
Types of forklift attachment:
As a professional forklift attachment manufacturer for many years, we have developed various kinds of forklift attachments, such as forklift-karrier, drum grab, ali grip forklift drum grab, drum positioner, drum lifter clamp, vertical drum lifters/dispensers, drum lifter, lifting clamp, ajustable lifting clamp, forklift maintenance platform, fork caddy, fork hook, telescopic fork mounted jibs, fork extensions, forklift seat, etc…
After-sale service:
Each equipment comes with specs instruction
1 Year Limited Warranty
We have been in manufacturing forklift attachment for many years. And we have a professional and perfect after-sales service team.
Forklift attachment manufacturer:
As a professional manufacturer of various types of material handling & lifting products, Forklift attachment is one of our main products. In addition to this, we can also manufacture various kinds of pallet trucks, stackers, lift tables, forklifts, crane and so on. If you would like to purchase a type of fork extensions, you can send us email from this page for quotation now. And if you are interested in our other products, welcome to contact us via e-mail or other ways that listed in the page. We will reply you in 24 hours.